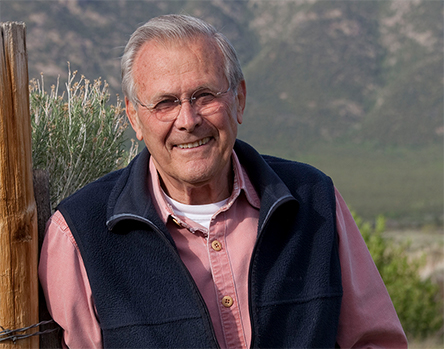 Donald Rumsfeld
Founder and President
Donald Rumsfeld chairs the nonprofit Rumsfeld Foundation. He and his wife of more than 62 years, Joyce, established the Foundation in 2007 to support leadership, public service and free political and economic systems at home and abroad.
Rumsfeld published his number one New York Times bestselling memoir, Known and Unknown, in 2011. The book spans his career and is complemented by extensive primary source documentation that can be found on his website at www.rumsfeld.com. His second book, Rumsfeld's Rules, was published in May 2013, and was also featured on the New York Times Best Seller list. He is currently writing a book on President Gerald R. Ford, the only person to serve as President of the United States never having been elected as President or Vice President.
In 2016, at age 83, Rumsfeld ventured into the tech world with the launch of his Churchill Solitaire app (www.churchillsolitaire.com). In 1943, then Prime Minister Winston Churchill taught the game to a then young Belgian Ambassador, Andre de Staercke, who 30 years later taught it to a then young Rumsfeld while he was serving as U.S. Ambassador to NATO. De Staercke got to know Churchill and his diabolical game of solitaire after escaping his native Belgium during World War II. Up until a few years ago, only a small number of de Staercke's and Rumsfeld's friends knew the game. Now Churchill Solitaire is available to download on Apple and Android devices worldwide.
Rumsfeld's profits from his memoir, Known and Unknown, and from his Churchill Solitaire app are donated to military charities supported by the Rumsfeld Foundation.
Rumsfeld attended Princeton University on scholarships (B.A., 1954) and served on active duty in the U.S. Navy (1954-57) as an aviator, a flight instructor, and an instructor of flight instructors. He completed his service as a Captain in the Naval Reserve when he became Secretary of Defense in 1975.
In 1957, Rumsfeld came to Washington, D.C. out of the Navy to serve as Administrative Assistant to a Congressman. He was elected to the U.S. House of Representatives from Illinois in 1962, at the age of 30 and re-elected in 1964, 1966, and 1968.
Rumsfeld resigned from Congress in 1969, during his fourth term, to join President Richard Nixon's Cabinet. He served simultaneously as the Director of the Office of Economic Opportunity, Assistant to the President, and member of the Cabinet (1969-1970). From 1971 to 1972, he was Counselor to the President, Director of the Economic Stabilization Program, and a member of the Cabinet.
In 1973, Rumsfeld left Washington, D.C. to serve as U.S. Ambassador to the North Atlantic Treaty Organization (NATO) in Belgium (1973-1974).
In August 1974, he was called back to Washington, D.C. to serve as Chairman of the transition to the Presidency of Gerald R. Ford. Rumsfeld later became President Ford's White House Chief of Staff and a member of the Cabinet (1974-1975). He served as the 13th U.S. Secretary of Defense, the youngest in the country's history (1975-1977).
From 1977 to 1985, he served as Chief Executive Officer, President, and then Chairman of G.D. Searle & Co., a pharmaceutical company. The successful turnaround at G.D. Searle earned him awards including the Outstanding Chief Executive Officer in the Pharmaceutical Industry from the Wall Street Transcript (1980) and Financial World (1981). Rumsfeld later served as Chairman and Chief Executive Officer of General Instrument Corporation from 1990 to 1993. Rumsfeld was a member and then Chairman of the Board of Gilead Sciences, Inc. (1988 to 2001) until being sworn in as the 21st Secretary of Defense in 2001.
During his business career, he remained active in public service in a number of Federal positions, including:
-Member of President Reagan's General Advisory Committee on Arms Control (1982-1986),
-Special Presidential (Reagan) Envoy on the Law of the Sea Treaty (1982-1983),
-Special Presidential (Reagan) Envoy to the Middle East (1983-1984),
-Member of the U.S. Joint Advisory Commission on U.S./Japan Relations (1983-1984),
-Member of the National Commission on Public Service (1987-1990),
-Member of the National Economic Commission (1988-1989),
-Chairman of the bipartisan U.S. Ballistic Missile Threat Commission (1998),
-Member of the U.S. Trade Deficit Review Commission (1999-2000), and
-Chairman of the bipartisan U.S. Commission to Assess National Security Space Management and Organization (2000).
While in the private sector, Rumsfeld participated in civic activities including:
-Member of the National Academy of Public Administration (1981 – 2001),
-Member of the National Park Foundation (1990 – 2001),
-Member and then Chairman of the Eisenhower Exchange Fellowships, Inc. (1986 – 2001),
-Member of Freedom House (1989 – 2001), as well as
Service on a number of corporate boards of directors including; Kellogg, Allstate Corp., Vulcan Materials Co., ASEA Brown Boveri (ABB), Sears Roebuck and Co. and Amylin Pharmaceuticals.
Rumsfeld served his second tour as Secretary of Defense from January 2001 – December 2006. During his tenure, he led the Department in its response to the terrorist attacks of September 11, 2001, overseeing the reform and transformation of the U.S. Armed Forces to meet the challenges of the 21st Century.
Rumsfeld has been awarded 11 honorary degrees and has received foreign awards and honors from the Republic of Albania, the Republic of Azerbaijan, the Republic of Georgia, Japan, the Republic of Korea, the Republic of Latvia, Mexico, the Republic of Nicaragua, the Republic of Poland, Romania, Taiwan, and Ukraine. In 1977, he was awarded the U.S. Presidential Medal of Freedom.
Rumsfeld and his wife, Joyce, reside in New Mexico and spend time in Montana and Maryland. They have three children, seven grandchildren and two great-grandchildren.