In this blog post we are delighted to share the unique story behind one of our Founder's favorite projects, the Churchill Solitaire app, and how it ties in with our military charity focus here at the Foundation. Read on to hear how the game's history traces back to Sir Winston himself and to learn why you should download it today for both a fun challenge and the opportunity to support a great cause!
"Never give in. Never, never, never." - Sir Winston Churchill
These simple yet powerful words of persistence from Sir Winston Churchill set the tone for players attempting their hand at the challenging Churchill Solitaire app, released in early 2016 by our founder, Donald Rumsfeld, in partnership with Churchill Heritage Ltd. and digital agency, Javelin.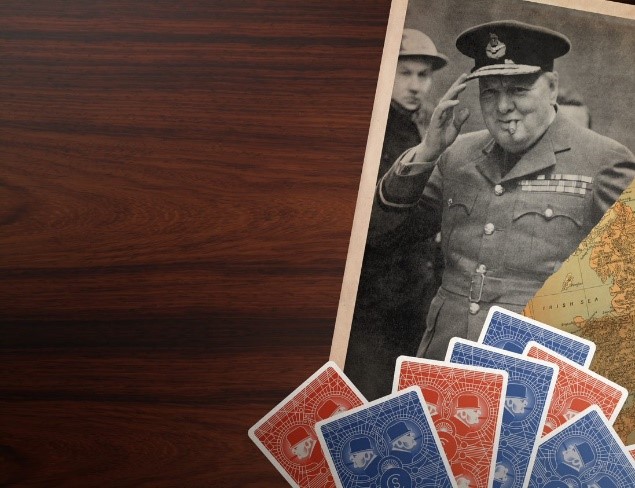 The week of its launch, Churchill Solitaire became the fifth most downloaded game in the world. In the time since, the app has gone on to be one of the most popular solitaire games available on the App Store and GooglePlay with more than a million downloads across all platforms.
So, what is the story behind "the most diabolical version of solitaire ever devised" and how exactly did this app come to be? We're delighted to share our founder's interesting slice of Churchill history as well as to highlight how, along with the fun of playing this unique solitaire game, you can also support some terrific military charities.
"What one needs in life are the pessimism of intelligence and the optimism of will." – André de Staercke
It's no surprise that Churchill Solitaire's history is nearly as riveting as the game itself. Back in 1973-74, Rumsfeld served as President Nixon's U.S. Ambassador to NATO in Belgium. While posted there, Rumsfeld met André de Staercke, then an esteemed senior Belgian diplomat at the NATO headquarters in Brussels. In between their official duties, de Staercke would go on to teach Rumsfeld a particularly challenging version of the game of solitaire, which de Staercke explained that he had originally learned how to play from Sir Winston himself. Among other differences, instead of using a single deck of cards, the game uses two full decks and instead of 7 rows of cards, there are 10.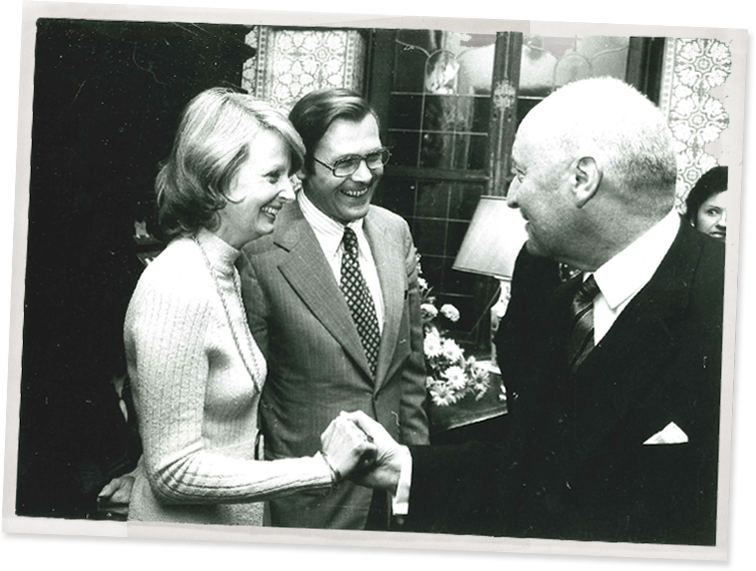 "I can remember de Staercke sitting across from me on a plane somewhere over Europe playing the curious game, dizzying columns of miniature cards arrayed on the table between us. I asked him what he was playing and he proceeded to tell me the origin of the game he called Churchill Solitaire after the man we both very much admired, and the diabolical rules that make it the hardest game of solitaire — and probably the most challenging and strategic game of logic or puzzle — I've ever played," said Rumsfeld.
"I never worry about action, but only about inaction."- Sir Winston Churchill
Over the decades since his time in NATO, Rumsfeld was known by many to play Churchill's version of solitaire, with a frequent opponent being his wife, Joyce, whom he notes is "the second-best living Churchill Solitaire player" he knows. With time, a handful of friends and colleagues who were close with the Rumsfeld family were introduced to the game.
"Up until a few years ago, there were probably a dozen or so people in the entire world who knew how to play this game. These were mostly people I taught the game to — my wife, Joyce, our children, and some assorted colleagues and friends. That was it. Winston Churchill was gone. André de Staercke, as well. And I knew I wouldn't be around forever. There was every chance the game Churchill so enjoyed could be lost to the ages," noted Rumsfeld.
Fortunately, Rumsfeld's former Chief of Staff (and now founder of Javelin), a member of that small circle of players, came to him with the idea of making the game available to the public as an online app and, in 2016, the Churchill Solitaire app was launched for all to enjoy. Today, more than four years later, Churchill Solitaire is known to many thousands of players around the world, as is another small piece of Churchill's extensive legacy. In recent years, Rumsfeld has delighted in hearing from new Churchill Solitaire fans as they rise through the game's ranks, from service members to journalists and students to politicians and even a former U.S. President.
"Churchill Solitaire is a game that is a host of contradictions — simple yet complicated; frustrating yet fun. Now it lives on for a new generation — a fitting tribute to a great man," said Rumsfeld.
"We make a living by what we get, but we make a life by what we give." - Sir Winston Churchill
This "fitting tribute" also includes some charitable causes that benefit from all in-app sales (the app itself is free to download and play). All Rumsfeld's profits from the app go to the Rumsfeld Foundation in support of its military charity partners, totaling over $121,000 contributed to date.
"My wife and I decided that any profits we earned from Churchill Solitaire we would give to military charities…What we try to do is to find charities that relate to the military that are doing things that we think are important," stated Rumsfeld.
In 2017 the Foundation was particularly honored to partner with the Travis Manion Foundation (TMF) in support of their Character Does Matter Program with a $500,000 donation. Read more in the release about this special grant and learn how TMF's work was a worthy recipient for a grant honoring Churchill's legacy of leadership.
"We are most fortunate to have great examples of character and leadership [like Churchill's] in our service members, veterans and their families," said Rumsfeld.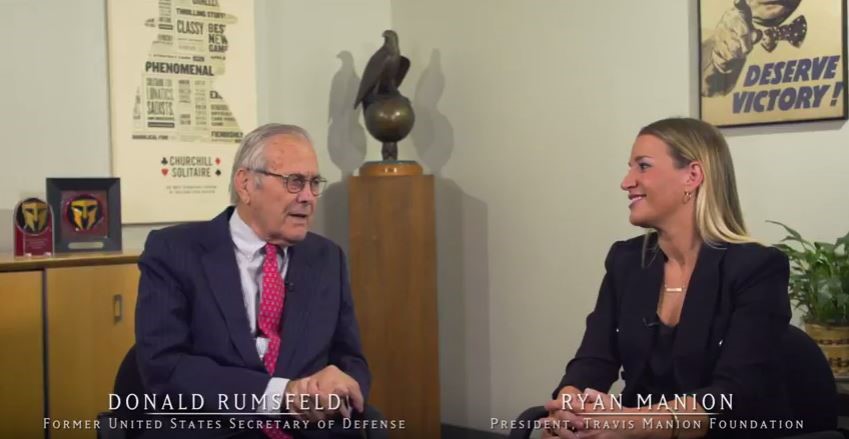 "Continuous effort – not strength or intelligence – is the key to unlocking our potential." – Sir Winston Churchill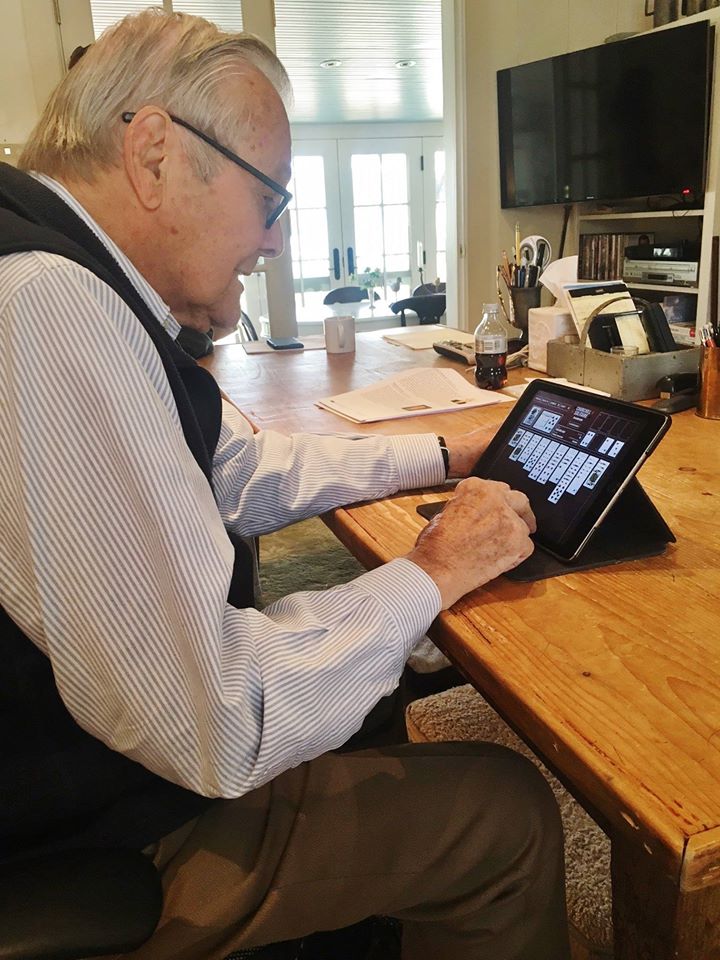 To this day our founders remain avid Churchill Solitaire buffs - switching between playing games with their miniature decks of cards and on their iPads.
We hope you will join them in this terrific game and help to support the worthy causes the app benefits.
And remember – you must never, never, never give in!
Find the app for download in the App Store and GooglePlay today.
Watch the official Churchill Solitaire Trailer here.
*Quotes, photos and excerpts included are from the following interviews and sources:
Churchill Solitaire Press Release
Interview by the Travis Manion Foundation with Ryan Manion