We asked Meghan Ogilvie, CEO of Dog Tag, Inc., to share some insights on her organization's work to empower service-disabled veterans, military spouses and caregivers. The Rumsfeld Foundation has been proud to support the unique and important efforts of the Dog Tag Fellowship Program and we are delighted to release this "Service Series" interview offering an inside look into Dog Tag's mission, operations and more.
1. Please tell us briefly about Dog Tag's mission. Where did the unique concept behind it come from?
Dog Tag Inc. (DTI)'s social enterprise, Dog Tag Bakery, acts as a living business school for transitioning veterans with service-connected disabilities, military spouses and caregivers. We empower our Fellows to rediscover purpose post service through an innovative business and entrepreneurship-focused fellowship program. We were co-founded by two incredible visionaries, the late Father Richard Curry, SJ and Connie Milstein, who shared the value that no veteran, military spouse or caregiver who wanted to work and pursue their career goals should be unemployed. Together they combined their skills and expertise to create a program to help veterans and military families, and Dog Tag was born.
Born missing his right forearm, Father Curry was personally familiar with the challenges faced by people with disabilities. A Jesuit priest, he was called to council recent amputees after 9/11 at Walter Reed Military Hospital and other military hospitals and saw the challenges they faced transitioning back to civilian life. Ultimately, Father Curry decided to devote the rest of his life to helping veterans with service-connected disabilities find meaning and gainful employment post service.
Dog Tag would not exist without Connie Milstein. Connie is a successful businesswoman who ran a bakery in New York that employed low-income women, helping them get back on their feet and learn important life skills. Post 9/11, many of the women who worked in her bakery were military spouses, which opened Connie's eyes to the unique challenges and barriers to meaningful employment that our military spouses face.
When Father Curry and Connie met, it was like two old friends coming together. They instantly connected, and knew they wanted to work together to build a bridge to employment and entrepreneurship for veterans, military spouses, and caregivers, helping them rediscover purpose. Connie had previously run a bakery, and Father Curry was a baker and cookbook author, so it only seemed natural that a bakery be the site of this new and exciting venture. Together, they launched Dog Tag Bakery in 2014, creating a supportive environment where the men and women who have given so much to our country can find success in their post-service lives.
2. What do you think makes Dog Tag stand out in the Veterans Service Organization (VSO) space today?
Truly, there is no other veteran-serving organization doing exactly what Dog Tag does. We run a high-touch, high-impact program that focuses on meeting the needs of the whole person; our program goes beyond entrepreneurship and job training to provide individualized attention to each Fellow's needs and personalized assistance with identifying and reaching their goals. We work with humans, not just data points. Our five-month fellowship program gives our Fellows the time and space to explore, learn and ultimately make informed decisions as they identify and work towards their goals. This personalized attention is incredibly impactful for our Fellows, and it's amazing to see their transformation and growth during and following their five months at Dog Tag.
We view ourselves as part of the VSO ecosystem, as we strive to work well with others and connect veterans to services; a benefit of being in our program is awareness of, and access to, vetted resources. Our extensive network of partners has helped our program succeed, and we work with VSOs and other veteran-serving organizations frequently, collaborating on shared practices where applicable. We focus on our mission, doing well by doing good, and give other organizations the space to serve in their own capacities. This way, we can all ensure the success of veterans and military families in their post-service lives.
3. As Dog Tag's first employee and now as CEO, you have a unique perspective on how far the organization has come since its start in 2012. What has been one of your proudest moments to date?
It's so hard to capture my pride in our program and mission with one moment. Every time I hear from our alumni about what's going on in their lives, the joy and excitement they have each time they reach a new milestone or achieve a goal, I'm so proud of them –– and of our program, and all those who helped build where we are today. I'm also proud of the moments in our organization when people buckle down and help one another, like a busy week where everyone pitches in and takes initiative to get the job done. I'm exceptionally proud to be part of an organization that has a team mentality towards serving our mission and helping others.
If I had to choose just one of my proudest moments, I think it would be seeing our co-founders Connie and Father Curry together at Dog Tag Bakery's grand opening. That day was the culmination of a shared vision two years in the making –– so many ideas, blood, sweat and tears that finally came to fruition. To see them together that day, both so proud of their vision coming to life –– and with Father Curry's health declining at the time –– it was an amazing moment that confirmed that everything that came before was worth it.
4. In your current role, what are you driven or inspired by?
I'm most inspired by people, seeing their resiliency and how they embrace the possibility of what can come next. As an organization, Dog Tag dreams big, but then we also execute. We believe at our core that investing in people is key to making a difference in their lives and the lives of those around them; we see what we do as changing lives, and in turn all lives are changed by that. For our Fellows, there is a need for hope and an opportunity to not only dream big, but then live up to those dreams. Dog Tag provides that hope and opportunity every day just by operating.
I'm so incredibly grateful for the generosity of everyone whose time and effort makes our mission possible. Our supporters put their own hard-earned money and time into ensuring our success, and I take the responsibility they give us very seriously. It's their dedication that drives me to make sure Dog Tag not only does what we say we will do, but we also don't sell ourselves short and continue to push the limits of what's possible.
5. What does service mean to you and your team at Dog Tag?
To me, service means working towards something bigger than yourself. Our team recognizes that, and also that the spirit of service is not looking for accolades or thank you's; it's the need and desire to serve others. Service can be seen as a teacher or barista providing a service that brings people joy every day, and it's also taking joy in the feeling that you not only have something valuable to give, but are serving something bigger than yourself.
Veterans, military spouses and caregivers all exemplify what it is to serve, but also have different definitions of exactly what that service means –– the different conflicts and success that comprise their service. At Dog Tag, service is defined by individuals; it's the values behind our service that drive us forward and allow us to figure out how we can play a role in creating a better world. I am very grateful to be part of cultivating a team that shares this dedication to serving others and is always willing to roll up their sleeves to make a difference for others.
6. If you had to describe your Fellowship participants in three words, what would they be?
"Yearning for learning" –– that was the first thing Father Curry said when we were recruiting for our first fellowship cohort, that we wanted Fellows with a yearning for learning. I think this description recognizes that we are forever students, and if you have the eagerness and the drive to figure out what's next, then you deserve the opportunity to do it. A "yearning for learning" is the one thing all our Fellows have; they really have to, in order to have the willpower to show up four days a week for five months, and complete Dog Tag's rigorous program. It's not easy to have the vulnerability to recognize you don't have all the answers, and to have the humility and courage to learn and figure those answers out –– but our Fellows continually have the strength and willingness to do just that.
7. We'd love to hear a success story about one of your alumni. Can you share one of your favorites?
I am so proud of every Fellow who has gone through our program. Each one has achieved amazing things, both while enrolled in our program and afterwards –– not just for themselves but also for those around them. We have a military spouse, Ximena Rozo, who has launched her own textile design company called Ximena Rozo Design. She's employing 60 men and women in Colombia, sourcing all her textiles from Peru and Colombia, and just opened in two locations in Colombia. We have a veteran, Sharod Wade, that's now working for the Mayor's Office in Washington, D.C., in Veteran Affairs while also launching his service-disabled, small business, government contracting business called Semper Santize. We have an alumni Deborah Elliot, a military caregiver, who was accepted into the Elizabeth Dole Caregiver program and is building her organizing business on the side. Everyone has their own definition of success and our goal is to provide an opportunity to explore what that path will look like from a very realistic point of view. We're proud and inspired by all of our alumni for finding their voice and taking their own path forward.
8. What would you like people to know about the veterans, military spouses and caregivers that participate in the Dog Tag Fellowship Program?
We see our Fellows as individuals. Each one has a story, and they might be stories of triumph and trauma, but it's not about being "broken" –– it's about being human and vulnerable, and taking that next step forward. Our program is truly about igniting the human spirit, about giving our Fellows the opportunity to discover what it means to have purpose and to serve outside of the military uniform. Our Fellows are human; they are individuals who are bright, resilient and who are also dealing with a transition from one culture to another. Everyone comes to our program for slightly different reasons and gets what they need out of it. The goal is that they're not looking for a handout, but a hand up. We facilitate an experience very much built on this idea of tough love; our program is tough and full of love. We invest in people and we believe that investment pays dividends as our alumni go on to start businesses, join companies, get involved in their communities and more. Success for our Fellows is really how they define it; it is different for every person. We can't define it for them, they have to have that recognition of what they want their life to be. Dog Tag is about learning how you can engage with your community to support those in it –– because a community coming together to support and uplift each other is what changes lives.
9. What are some of the personal lessons that you've learned from your Fellows?
Most truly, I've learned that everyone has their own story to tell. People can make assumptions, but no one knows what anyone else's life has or has not been until they listen to that person share their story. I am continually blown away by our Fellows' resilience. I'm constantly reinforced that I want to be a student of our program/organization. I feel like I'm constantly learning, from anything as simple as running an organization to connecting with individuals, to understanding our program and where it gives value. I've also learned that you have to celebrate the small victories. The fellowship has allowed me to realize that there are small victories and you have to celebrate them for our Fellows, and it helps me see I also need to do that for myself and the organization. Again, anything is possible –– you see individuals come here and allow themselves to be vulnerable and open to opportunity. I'm inspired and blown away by how they move forward with their lives. You should never be defined by one simple aspect of your life. Anything is possible.
10. Looking ahead, what should we expect from Dog Tag in the next decade?
We're approaching a very exciting time here at Dog Tag. The 5 year anniversary of the program and the graduation of our 10th Cohort will happen at the end of this year. This program is powerful and transformational, and I couldn't be prouder of what our graduates have achieved. We've reached capacity at our Georgetown flagship with two cohorts of 15 Fellows each per year, but we want to help even more veterans, military spouses and caregivers find purpose and success post-service. I am thrilled to share that we plan to grow our program by opening another location in a new city. Our team is currently conducting site visits for this expansion, and we plan to announce the location of our second Dog Tag Bakery in 2020.
In the next ten years, we will be in three or more cities and will have established a name for ourselves with our particular method. The Dog Tag Way will be known on a national scale for military families and veterans. Our program will be valued not just for the concrete life and business skills it awards to Fellows and alumni of the program, but also the peer-to-peer connections and networking found, in addition to genuine friendships and bonds shared. Write Dog Tag down –– this won't be the last you hear from us.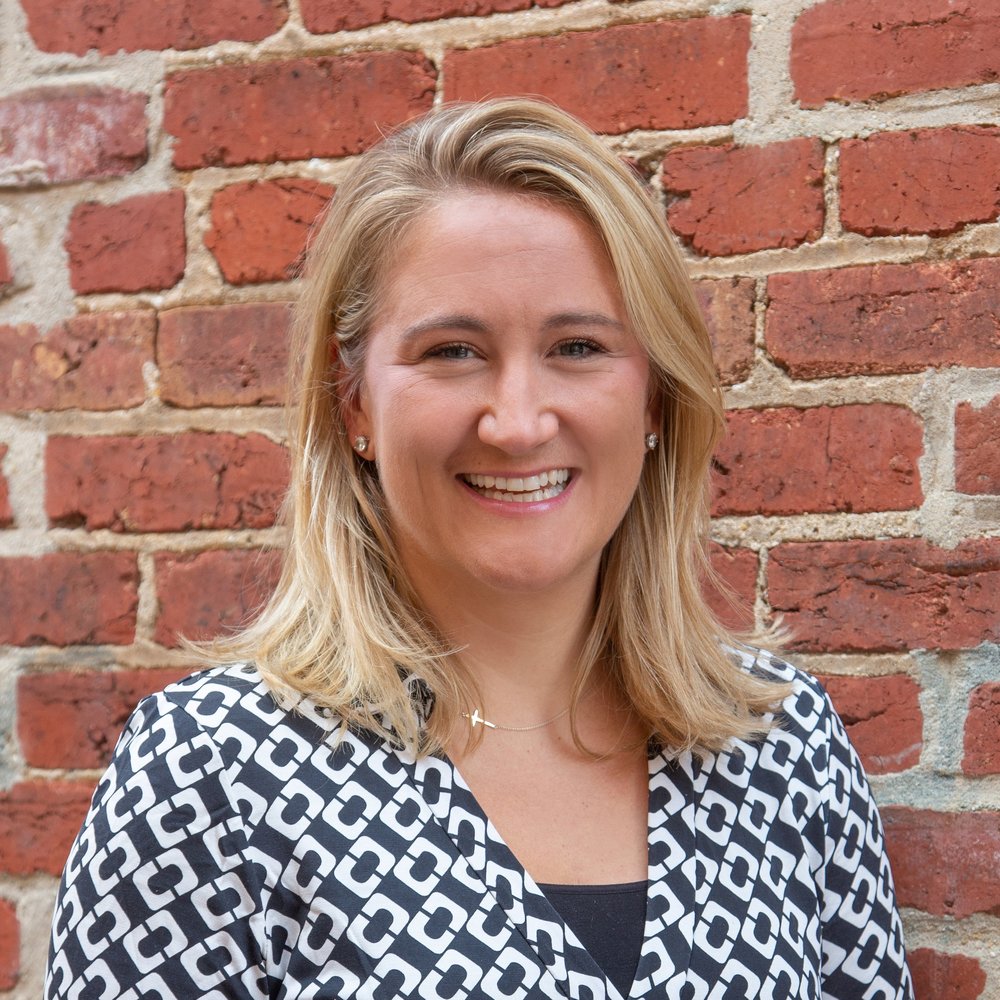 Meghan Ogilvie is Chief Executive Officer of Dog Tag Inc. Hired as Dog Tag Inc.'s (DTI's) first employee in 2012, Meghan partnered with DTI's co-founders to bring their shared vision to life: to create a place that equips transitioning veterans and military families with knowledge, skills, and confidence to pursue their career goals, post service. Meghan assumed the role of CEO in 2015 and oversees all aspects of DTI's unique, multi-faceted social enterprise including: managing the Fellowship program, growing Dog Tag Bakery, and guiding the development and implementation of DTI's long-term strategic vision. Read her full bio here: www.dogtaginc.org/our-team.
Learn more about Dog Tag Inc. and consider supporting their impactful work: www.dogtaginc.org/our-mission. The Rumsfeld Foundation has been proud to support the Dog Tag Fellowship Program since 2018.