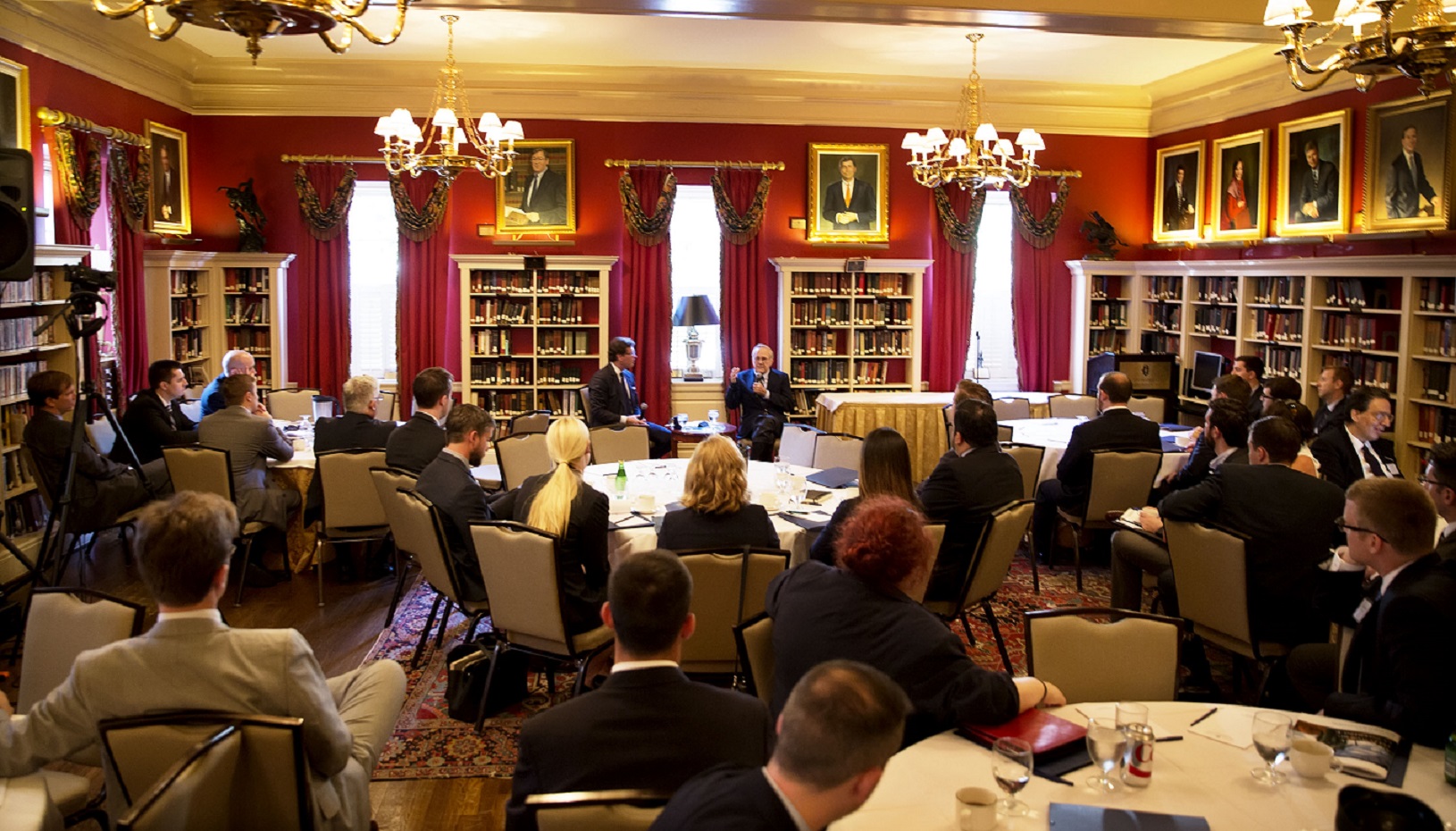 Rumsfeld Foundation Hosts 2016 Graduate Fellowship Conference
FOR IMMEDIATE RELEASE

September 29, 2016

Washington, D.C. - On September 22nd -23rd, 2016 the Rumsfeld Foundation hosted its Graduate Fellowship Conference in Washington, D.C. Over the course of two days, 57 current and former Fellows, as well as 13 Advisers participated in the fourth annual Conference. Conference events began with a Welcoming Reception on Thursday evening at downtown restaurant, Pennsylvania 6, where Fellows and Advisers had the opportunity to visit.
Formal conference sessions began the following morning with remarks over breakfast from Dr. Steve Cambone, Foundation Board Member, discussing the Conference theme, "American Leadership in the 21st Century."
Following breakfast, three of the Program's distinguished Advisers from Syracuse University, the University of Dallas, and Johns Hopkins University's School of Advanced International Studies participated in a panel discussion focused on foreign and domestic challenges of the 21st Century and suggestions as to America's role in the world in the years ahead. Panelists concluded that America's leadership on the global stage will continue to be essential and perhaps increasingly required in the face of growing international challenges.
Following the panel, Mr. Lawrence Di Rita, Foundation Board Member, moderated a wide-ranging interview session with Don Rumsfeld, highlighting Rumsfeld's experience in both the public and the private sector. Participants also had the opportunity to ask about his insights on leadership in the context of current events.
During the luncheon, Fellows and Advisers heard keynote remarks from General Peter Pace (USMC ret.) and former Chairman of the Joint Chiefs of Staff, about his extensive career in public service and his lessons on leadership.
During the afternoon, Fellows and Advisers took part in interactive breakout sessions, allowing them to further discuss the conference theme through more interest-tailored topics. Discussion leaders included: Ambassador Eric S. Edelman, Former Undersecretary of Defense for Policy and current Roger Hertog Distinguished Practitioner-in-Residence at the Philip Merrill Center for Strategic Studies, JHU-SAIS; Mrs. Torie Clarke, Former Assistant Secretary of Defense for Public Affairs and current Head of Global Corporate Affairs, SAP; Dr. J.D. Crouch II, Former Deputy National Security Adviser and Assistant Secretary of Defense for International Policy and current CEO and President, United Service Organization (USO); and Mr. Robert Rangel, Former Special Assistant to the Secretary of Defense and the Deputy Secretary of Defense and current Senior Vice President, Washington Operations, Lockheed Martin. Full bios of our speakers can be found here: 2016 Conference Speakers.
The Conference concluded as Fellows, Advisers and several speakers gathered for a reception and dinner at Joe's Seafood, Prime Steak & Stone Crab in Washington, D.C., where Rumsfeld made closing remarks encouraging participants to take advantage of their talented network of service-oriented peers.
Since 2008, the Foundation has provided more than 120 Fellowships totaling over $2 million to 98 graduate scholars, all with an interest in public service or policy-relevant fields.
To learn more about the Graduate Fellowship Program and the work of the Rumsfeld Foundation, please visit www.rumsfeldfoundation.org/focus/our/fellowships or the Foundation's Facebook page or Twitter.
###
Media Contact:
Sarah Conant
Executive Director
Rumsfeld Foundation
(202) 944-1304
s.j.conant@dhrllc.net