In this latest Service Series post, we asked our friends at Warriors & Quiet Waters Foundation (WQW) to walk readers through one of their flagship programs for wounded veterans. Their Fishing Experience ─ called "FX" for short ─ brings together a small group of former service members from across the country for a unique and powerful week-long experience in Bozeman, Montana. The Rumsfeld Foundation has been delighted to support WQW since 2011, as the Rumsfelds have long valued the transformative power of the great outdoors, and in particular, those of the great state of Montana.
.
"When times get hard, I can close my eyes and find myself floating on the river and catching a beautiful brown trout. I can then tell myself everything is okay and I can get through this." – Marcus Ziegler, Warrior, U.S. Army
We do more than just take veterans out to fly fish. Here at Warriors & Quiet Waters (WQW), a nonprofit based out of the bustling mountain town of Bozeman, Montana, we help post-9/11 combat veterans and their loved ones find peace, meaning and purpose after their military service. Fly fishing just happens to be one of the ways we make this happen.
Our mission is to help veterans thrive. Many times, the veterans who come to Montana for our five-day Fishing Experiences (FX) find solace in the Blue-Ribbon trout streams of Montana, enough so that they hold those experiences with them in times of hardship ─ just like Marcus Ziegler noted above.
Our programs focus mainly on providing Warriors a place of safety, rest and support ─ one where they are free to commit to themselves and find a new purpose in life after service. The community behind WQW creates this sense of peace and purpose ─ made of veterans, program alumni, families, caregivers and volunteers. Through this newfound family, veterans in the WQW family find a sense of love and belonging.
How exactly do our FXs work? Here's a look at our schedule when a veteran is accepted to participate in one of our programs:
Arrival Day One
We have many iterations of an FX. While perusing our website, you'll see that we also invite veterans and their loved ones to participate in programs such as a Family FX, Couples FX or a Coaching FX, among others. However, we ask that each veteran participates in a Solo FX first ─ a fishing experience made up of six veterans ─ as their first introduction to WQW. Once these six veterans land at the Bozeman-Yellowstone International Airport, they are met by WQW staff and volunteers and driven to Quiet Waters Ranch, WQW's home base, for a homemade meal made by our volunteer moms.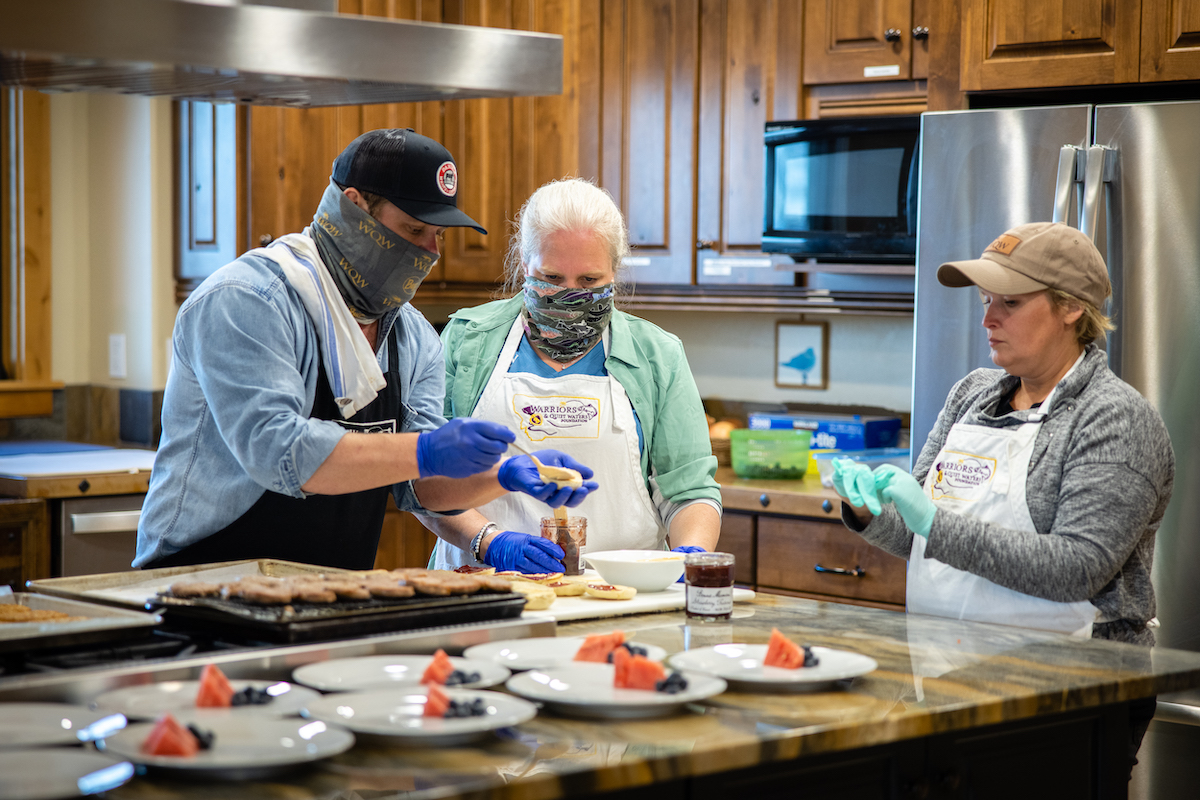 The volunteer moms are a staple in our FXs. While these moms are in charge of providing homemade meals for veterans throughout their stay with us, they often end up doing much more.
One of our very first mom volunteers, Celia O'Connor, whose late husband Tom was one of our founding board members, said she tried to make Quiet Waters Ranch feel like home for the veterans she met.
"I'd always worry about what to say to break the ice. I would tell them, 'My name is Celia, but you can call me Mom.' Eventually, they would start to unburden themselves to me, which means I got the role right."
Food becomes a source of love on our programs, and many mom volunteers cook family recipes for the veterans during the FX.
After their first meal, staff members from Simms Fishing pay the veterans a visit to be outfitted with top-of-the-line fly fishing gear. The veterans get to try everything on to make sure it's the perfect fit. Afterward, we incorporate downtime into the schedule so our participants can enjoy the property in whatever way suits them best.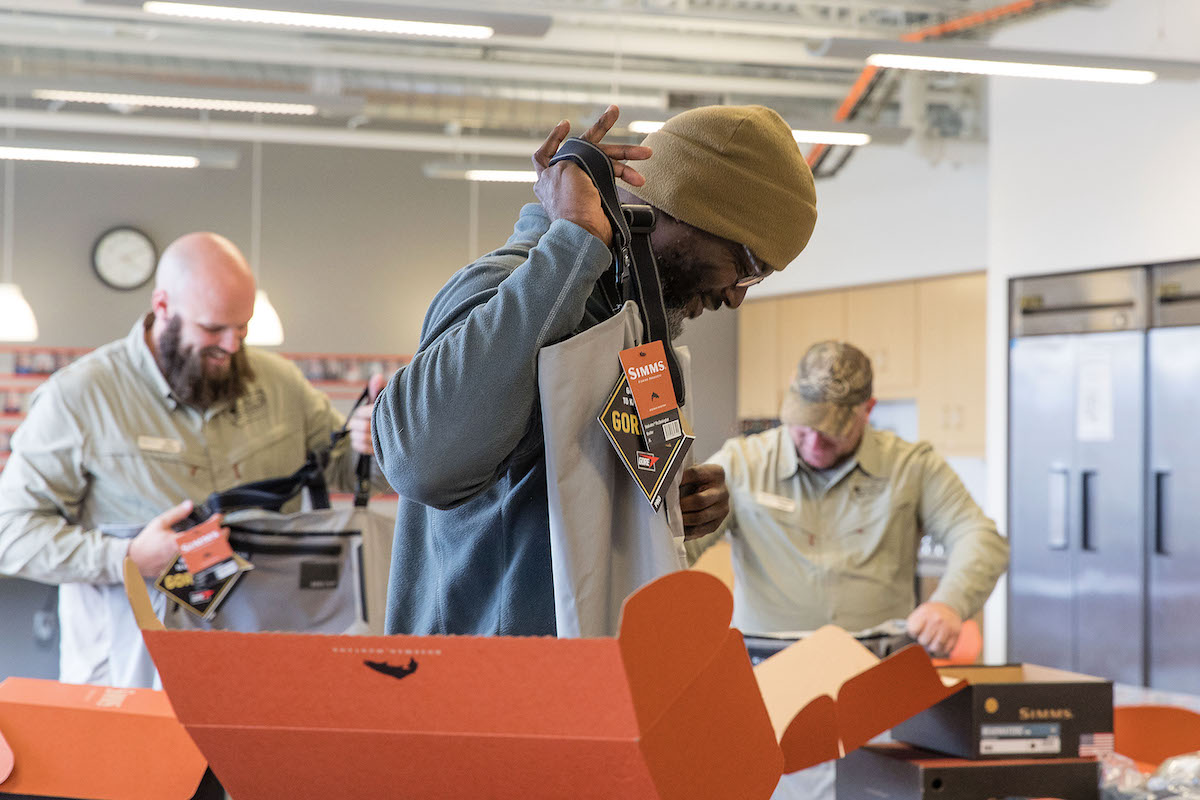 Fly Fishing 101
Fly Fishing 101 is a fun day of learning new skills. We typically take the group to a private pond to learn the basics. On this day, each veteran is paired with a licensed fishing guide and volunteer companion. A volunteer companion is one of the most rewarding volunteer positions ─ they are tasked with forming a meaningful connection with the veteran with which they are paired. We often hear how this relationship has a life-changing positive impact on both the veteran and the companion.
"[My companion] and I have communicated several times, and I am hoping to meet up with him in some way in the future," said Brent, Warrior, U.S. Army, who attended a Solo FX in April 2021. "Making new friends is hard in this day and age, but the comfort I had with him gave me something to look forward to."
After meeting the group, guides get to work instructing the veterans on the fundamentals of fly fishing. Once a solid foundation of skills has been built, the guides and veterans transition to the water to begin fishing. The roar of cheers when someone catches their first fish is a contagious energy that makes Fly Fishing 101 a memorable day.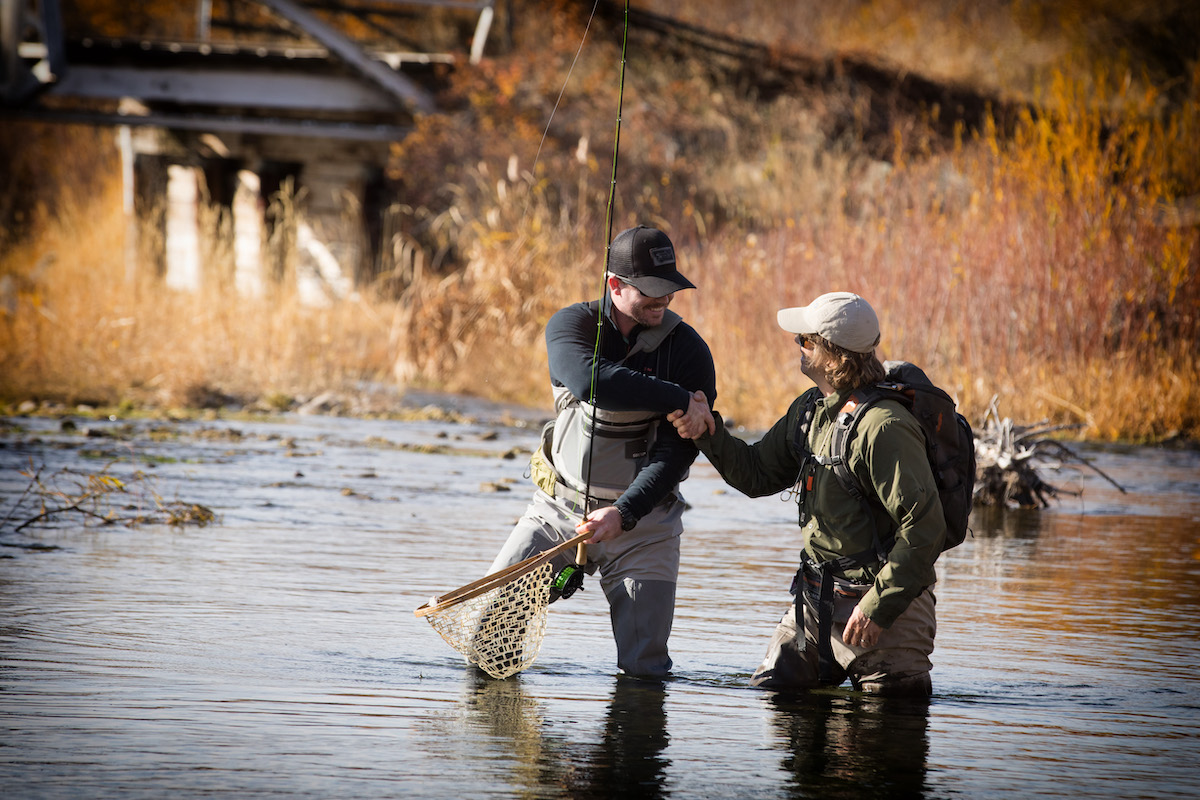 Fishing Day One
With an arsenal of Simms Fishing Gear to keep them warm and dry, no amount of snow or rain can stop each group from enjoying Southwestern Montana's clear blue waters. Each participant spends the day either floating or wading with their guide and companion on one of the many public or private waters around the state. When needed, WQW has an adaptive drift boat and track chairs to accommodate the various needs of our participants.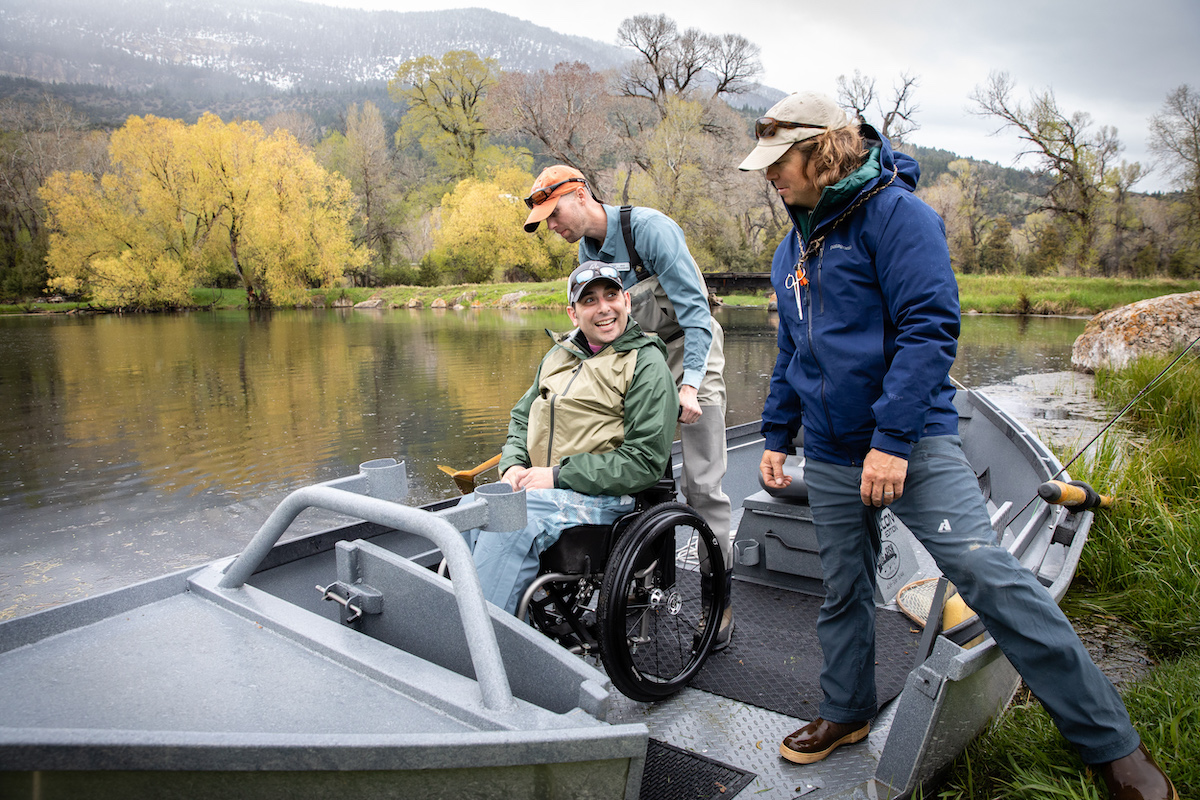 Fishing Day Two
The veterans once again head out with their guides and companions for a full day of fishing. At day's end, everyone involved in the week ─ Warriors, guides, volunteers and a few staff members ─ meet at Quiet Waters Ranch for a Sayonara Dinner. The Sayonara Dinner is a special meal because it's the last meal the group will share together. At this dinner, we invite the participants to speak on how the week has affected them. Sometimes, no one speaks up at the Sayonara Dinner, and that's okay. This meal has become a time where we reflect on what the week has meant, and sometimes those reflections need to be personal.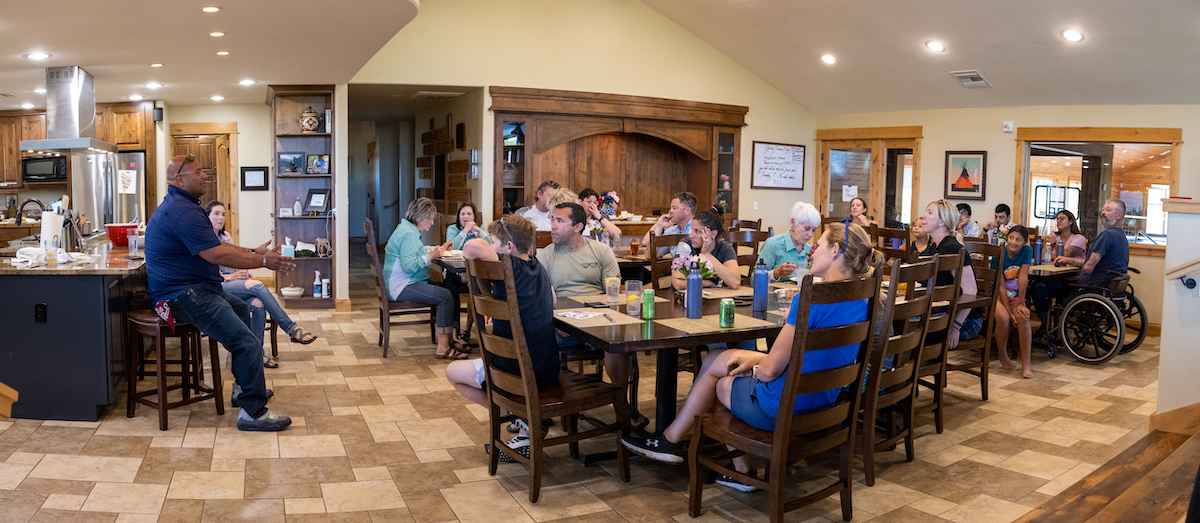 Departure Day
Everyone says their final goodbyes as they wake up with packed bags ready to head to the airport. By now, the veterans have become part of the WQW Family, and they also have the basic skills and equipment necessary to continue the healing craft of fly fishing once they return home.
"WQW gave me the tools to take back home and continue to be better for my family and myself. I left the ranch with new bonds and a renewed sense of strength to push through challenges," said Brett, Warrior, USMC, who participated in a Solo FX in October of 2021.
The journey to reintegration can last a lifetime, which is why the support of the WQW community does not end with a Solo FX. We continue to build trust with veterans and facilitate connections among veterans and their loved ones, often inviting them to come back for a Couples or Family FX. We provide ongoing opportunities for engagement, personal and professional growth, and learning, as well as progressive programs to help Warriors and their loved ones move along the path to successful reintegration. We invite you to join us as we help veterans thrive ─ as a supporter, volunteer or program participant. The WQW Family is growing, and we'd love for you to be a part of it!
.
Warriors & Quiet Waters hosted 25 weeks of programming in 2021 and has now served a total of 1,128 post-9/11 combat veterans and their loved ones. Thanks to a grant from the Rumsfeld Foundation, WQW held a Transition Mentoring Workshop in partnership with the COMMIT Foundation in October 2021.