This year marks the 10th anniversary of the Foundation's Graduate Fellowship Program. Beginning with an initial class of Graduate Fellows supported throughout the 2009-2010 academic year to today's nation-wide Fellowship network of 170 Fellows and Advisers, the program has grown and developed over the past decade far beyond original intentions. We are encouraged by the continued engagement of the program's network members and the important connections being forged among the rising leaders we have supported over the years. In this blog post we share 10 perspectives on the program's impact as well as some noteworthy facts and figures.
"Our democracy will be sustained by America's bright, young leaders committed to public service and public policy." - Donald Rumsfeld
1. 2009 marked the inaugural year of the Foundation's Graduate Fellowship Program. The program was launched with the aim to provide high-potential young leaders interested in serving the country with needed financial assistance for their graduate education.
"Through the Rumsfeld Fellowship I have developed lasting relationships with an elite group of men and women who share many of the same values: a love for the United States and our incredible history and a belief that the United States is a force for good in the world." - Graduate Fellow 2010-12, University of Pennsylvania
2. In order to be nominated for a Fellowship grant, candidates must exhibit the following characteristics: exceptional intellectual ability, integrity, moral character and leadership potential. In addition, above all, they must demonstrate a commitment to serving the nation through public service or policy-relevant fields at some point in their career.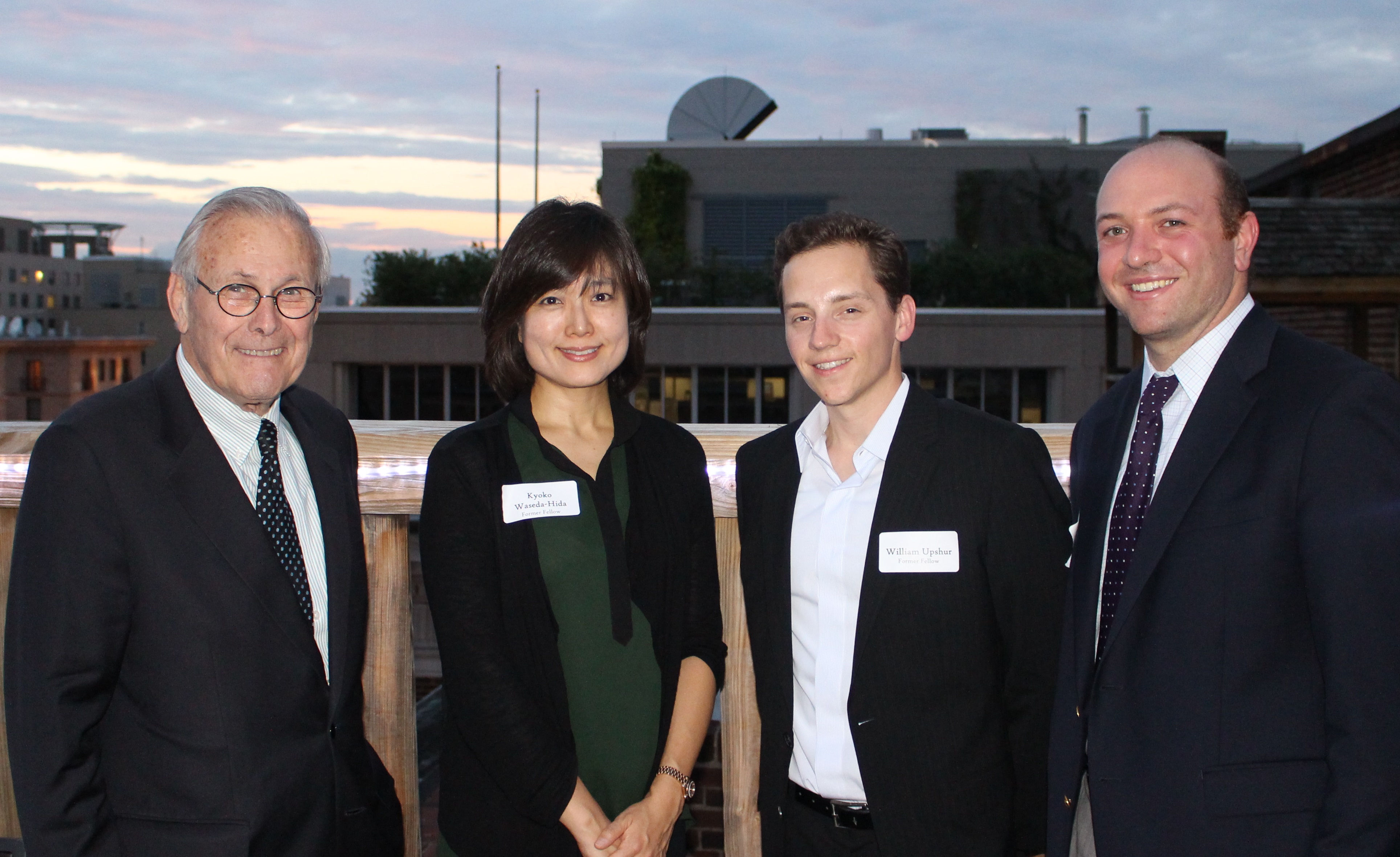 "The Graduate Fellowship Program provides a singular opportunity by bringing together students and young professionals inclined to public service. It has been incredible to meet and exchange ideas with others pursuing such a variety of callings in the public and private sectors. It has been a privilege to be a part of the community of Fellows. As it grows, many of our careers will likely intersect." - Graduate Fellow 2014-15, The Institute of World Politics
3. Now in its 11th academic year, the program has provided financial assistance to 146 rising and current public servants for their graduate education.
"I have been able to make great strides in my academic career this semester. Were it not for the support from the Rumsfeld Foundation, it is unlikely that I would have been able to work at such an accelerated pace. Thank you very much for the financial support this semester, which has given me the freedom to pursue these opportunities to further my intellectual development and bring me closer to my career goals." - Graduate Fellow 2011-13, Indiana University
4. To date, the Foundation has provided more than $2.9 million in Fellowship grants to talented graduate students at both the Master and Ph.D. levels, as well as to postdoctoral researchers.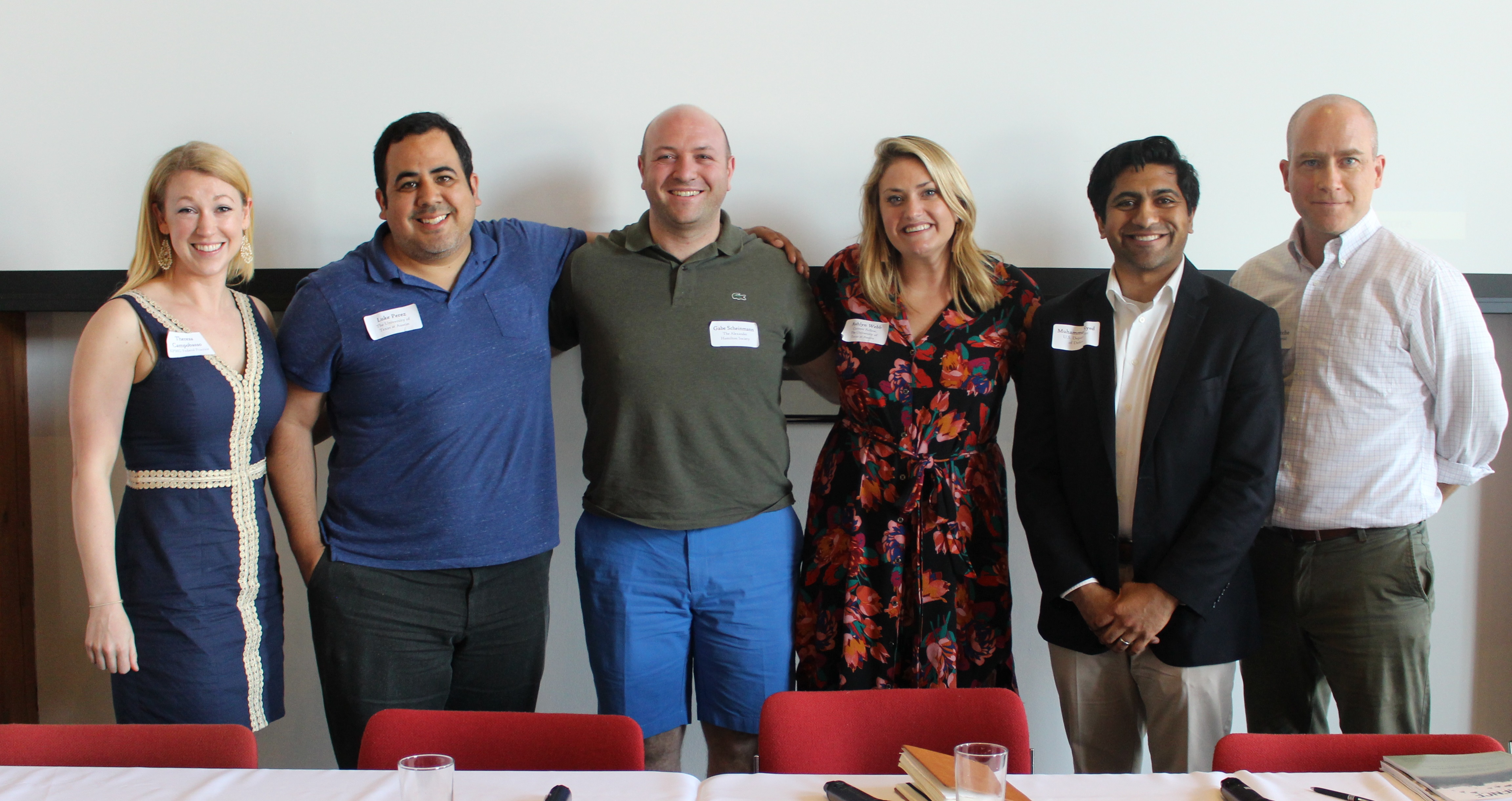 "Thanks to the Rumsfeld Foundation, I developed a mentoring relationship with a noted constitutional law expert at my school. Our conversations outside the classroom helped me to grow intellectually and to think critically about a future in public service. This mentoring relationship served a significant role in my professional development." - Graduate Fellow 2010-12, University of Notre Dame
5. A collection of 24 professors located at universities across the country serve as our Graduate Fellowship Advisers, individuals vital to the program for their roles as nominators and mentors of Fellowship candidates. Along with their own significant contributions to U.S. policy, the achievements of these top-rate scholars and practitioners include members of international commissions; presidential advisors and administration officials; former and current agency and center directors; university program and institute directors; accomplished authors; and recipients of numerous distinctions and awards.
"Everything from the Conference's opening reception to the farewell dinner was excellent and allowed me to get a better feel of what the purpose of the Fellowship is. I met many great scholars and thinkers and believe that our combined and coordinated efforts could make a real change. The panel was especially helpful for this, as our discussion turned to what constitutes the American character. However, one of the most important effects of the conference, to me, was a sense that we are not alone in our work and that there are other, like-minded people who are dedicating themselves to the same tasks of preserving those things which have made America a great nation." - Graduate Fellow 2013-14, Villanova University
6. In 2013 the Foundation hosted the first ever Graduate Fellowship Conference in Washington, D.C. Building off this initial gathering of the Fellowship netowrk, the annual Conference has become the program's capstone event and serves as an important opportunity to convene the network to discuss timely issues facing the nation, as well as to strengthen relationships and connections. To date there have been 7 Annual Conferences held in Washington, D.C. featuring keynote speakers, panel discussions, roundtable sessions, networking, receptions and dinners.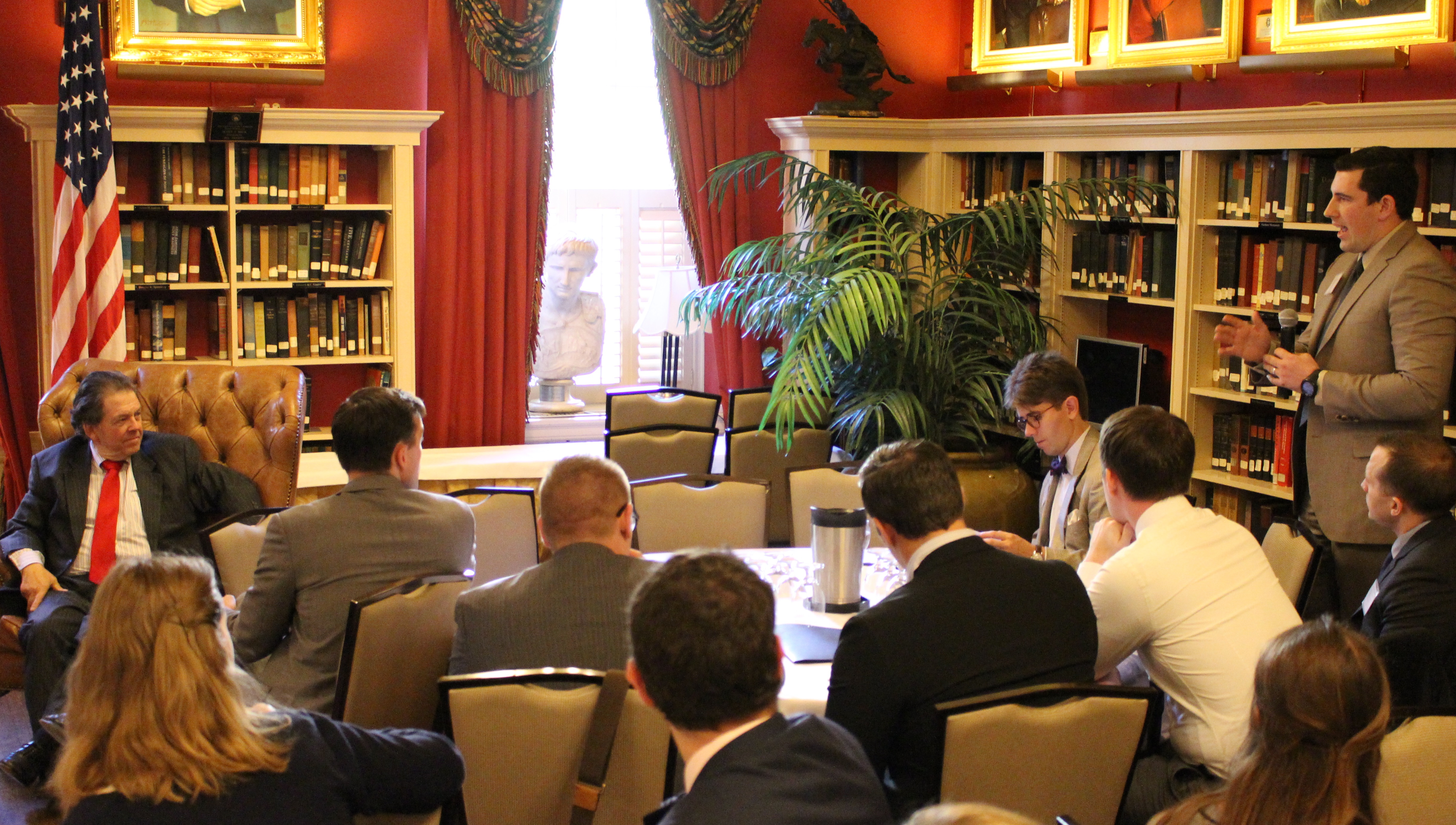 "The events organized by the Rumsfeld Foundation energize and inspire me and stretch my thinking. There are no easy answers to discussion topics and the discussions themselves invite so many views and opinions. We are engaged to think about everything from education to scientific research to security and defense and always the role we can and should play as engaged citizens of a great nation." - Graduate Fellow 2012-13, Missouri State University
7. Fellows are offered continuous opportunities for engagement through network activities and events designed to encourage their connectivity with one another, with Graduate Advisers and also with notable leaders in the broader public service and policy communities. Since 2013 the Foundation has hosted over 30 network events and looks forward to offering events with increasing frequency in the years ahead.
"Encouraging future generations to contribute through public service is without a doubt a vital task and the Rumsfeld Foundation's efforts to do so through its Graduate Fellowship Program are important and valuable. It is heartening to see many of their Fellows dedicating their burgeoning careers to serving the nation, and our country will certainly benefit from young leaders such as these in the years ahead." - General Michael Hayden, Principal, Chertoff Group; Former Director of the CIA and NSA
8. There have been 35 experienced professionals, like General Hayden, who have served as speakers at the program's annual Conferences and additional network events since 2013. These seasoned experts have shared valuable insights on leadership, public service, effectively navigating their respective career fields and much more with our network members. We are most grateful for their time and contributions to the program.
"Thank you for the honor of being included in the 2017 class of Fellows. Your support and confidence have been incredibly meaningful to me as I work toward completing my Master's at Johns Hopkins University - SAIS. Thank you again for helping this Marine achieve her goal of attending a challenging graduate program." - Graduate Fellow 2017-18, Johns Hopkins University - SAIS
9. The Foundation is proud to count 25 current and former U.S. service members among our network members. While the program defines a commitment to "service to nation" in a broad sense, the military service of these Fellows is an important testimony to the spirit of service we hope to encourage and cultivate in our network.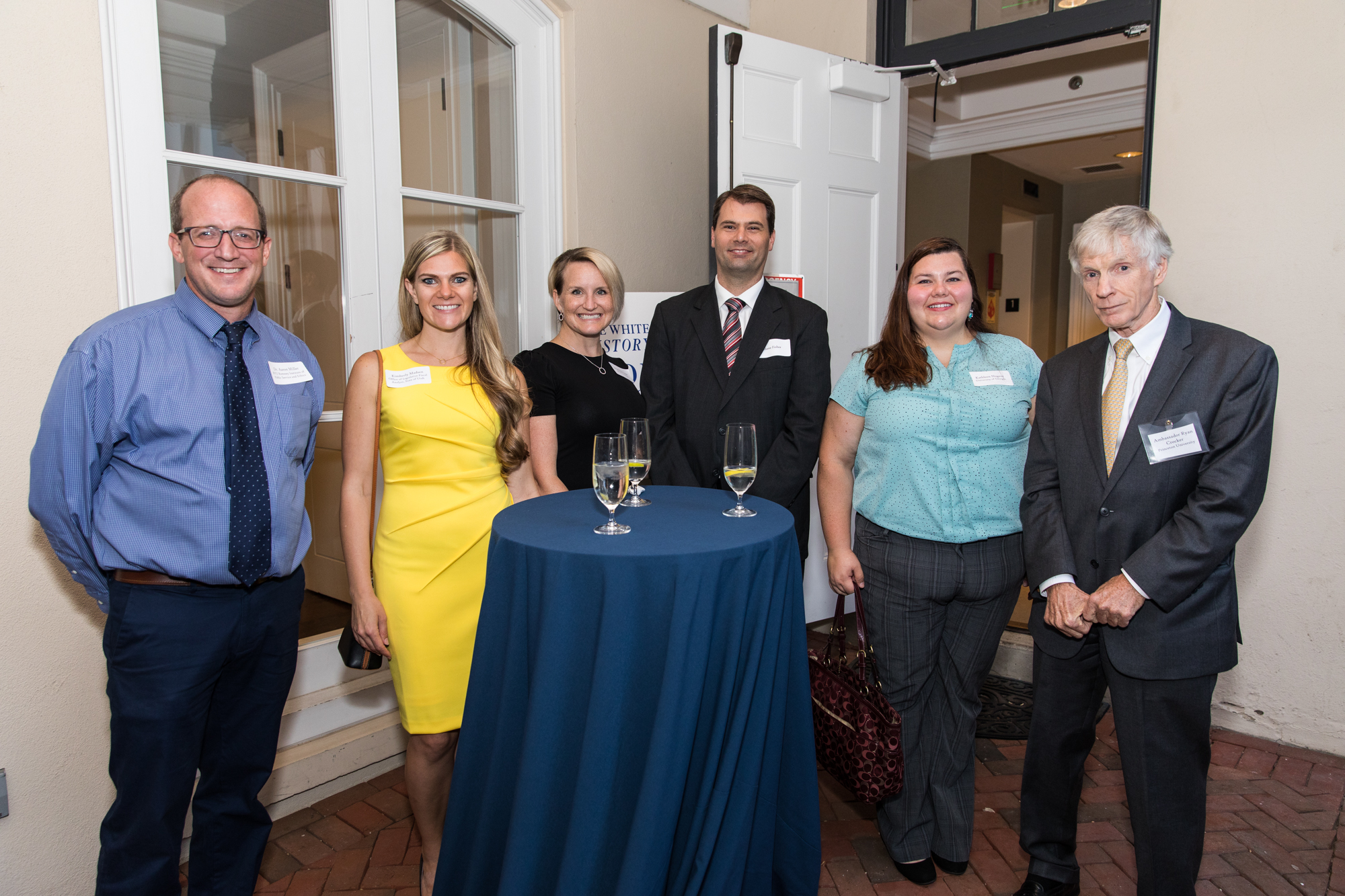 "I am grateful for the support of the Fellowship, which made it easy for me to choose this career path in public service and to make a difference in U.S. international affairs." - Graduate Fellow 2011-12, Missouri State University
10. The program's network members continue to demonstrate their commitment to service with 75% or more of the network's graduated alumni serving in the public sector or policy-relevant fields. The Foundation looks forward to following the impressive paths and achievements of its alumni in the years ahead.