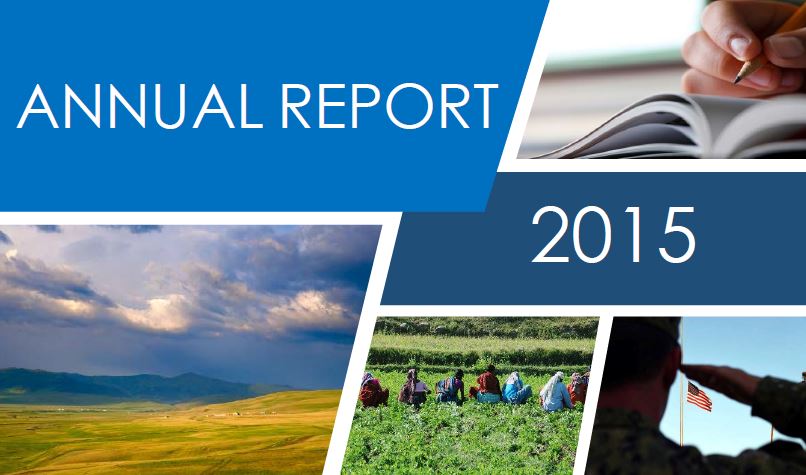 FOR IMMEDIATE RELEASE
February 24, 2016
Washington, D.C. - The Rumsfeld Foundation is pleased to release its 2015 Annual Report outlining developments and activities from the past year.
In 2015, we further developed the Foundation's initiatives to advance our mission to reward leadership and public service at home and support the growth of free political and free economic systems abroad. Through work in our focus areas - Public Service and Greater Central Asia - the Foundation remains committed to promoting self-sufficiency and dignity, liberty and leadership.
Toward encouraging and honoring public service, we provided Fellowships to 14 aspiring public servants for their graduate education, and made grants totaling over $735,000 to more than 20 military charities working on behalf of troops, veterans and their families.
To assist the developing region of Greater Central Asia, we welcomed 23 Central Asia-Caucasus Fellows to our Fellowship Program and growing alumni network, and made grants totaling $200,000 in support of microfinance programs in 4 countries in the region.
"We are pleased to reflect on a year of continued growth and advances through our grants and Fellowship Programs. It has been an honor to be supportive of many impressive individuals, organizations and causes. We remain dedicated to our work and look forward to making further progress in the years to come. Our thanks to partners, supporters and friends of the Foundation for your involvement, interest and support." - Don and Joyce Rumsfeld
Download the full report here:

2015 Annual Report
To stay up to date on our progress in 2016 and beyond, sign up for our mailing list at www.rumsfeldfoundation.org and follow us on our Facebook page.

To make a charitable contribution to the Rumsfeld Foundation, click here.

###

Media Contact:
Sarah Conant
Executive Director
Rumsfeld Foundation

(202) 944-1304
s.j.conant@dhrllc.net