After Secretary Rumsfeld's passing, the Foundation was heartened to receive an outpouring of condolences and thoughtful reflections from our founder's many friends and colleagues around the world. Among them were touching messages of gratitude from our Fellowship alumni and the military charity partners we have worked with over the years. This blog post includes a sample of such testimonials which speak to the significant and enduring impact that Rumsfeld had on the lives of so many. With the support of our talented networks and partners, we are honored to carry on his legacy of impact as we continue our work in this next chapter. Find more words of remembrance on our Founder Tributes page.
From our Central Asia-Caucasus Fellowship Network…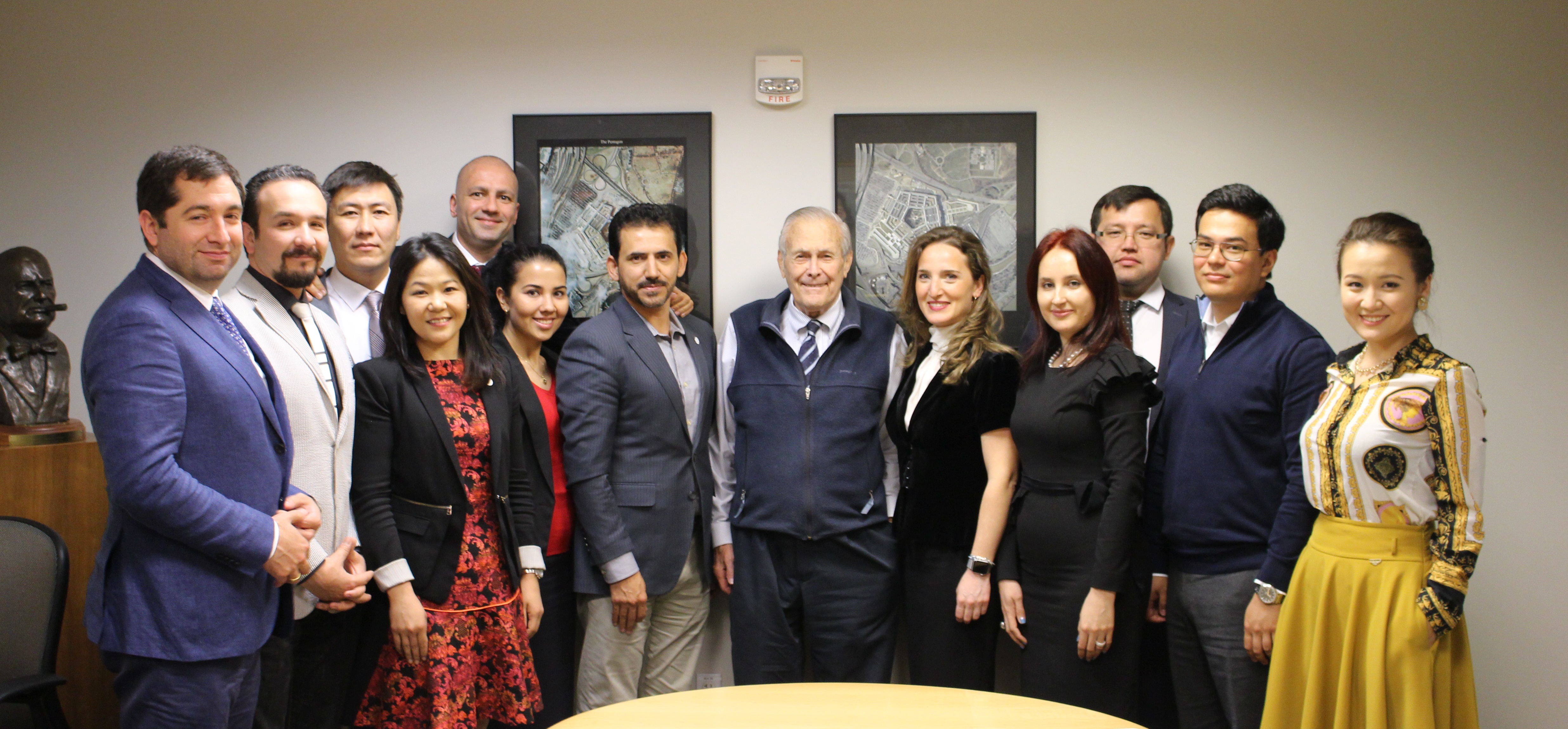 "Becoming a Rumsfeld Fellow has been one of the most important experiences in our lives, and we are immensely grateful to Secretary Rumsfeld and the Foundation. We will all actively contribute and participate in the Fellowship and CAMCA Network in the years to come. The world has lost an extraordinary statesman, but we have lost an inspiring mentor and role model. A strong and active CAMCA Network is a testament to the astonishing prescience of Secretary Rumsfeld and to the tireless tenacity of the staff he has assembled. Secretary Rumsfeld once likened his job to a 'javelin catcher.' This could also be an apt description for all the worthy roles we strive to fulfill in our lives, and thanks to Secretary Rumsfeld, we've all become better javelin catchers. We are eternally grateful."
"It is with profound sadness that we have learned about the passing of Secretary Donald Rumsfeld. Irrefutably, he was among the most distinguished leaders of our time, and most outstanding architects of our world. At every step in his career, both in private and public segments, Secretary Rumsfeld served the American people with great integrity, utmost dedication as well as with genuine passion and humility. Moreover, he helped shape the world and contributed substantially to the welfare and security of the rest of humankind by making it a better place for all. The Secretary was known to have never bent to any circumstances, and for staying loyal to his principles, which he upheld to be true at all times. His gift and service to the world is yet to be appreciated by the upcoming generations, as thanks to him, tens of millions of the oppressed around the world now happen to live in security and enjoy freedom. And that will undoubtedly remain as one of his most exceptional legacies. The Secretary's passing is a painful loss to the world, which learned to appreciate his leadership and acumen. We were extremely privileged to have known the Secretary personally, and to have shared in his bold vision of bringing together brilliant young professionals from the CAMCA region to forge a revitalized and enduring interregional cooperation that would span across an immense part of the Eurasian continent, from Psou, Georgia to Badakhshan, Afghanistan. We are eternally grateful to Secretary Rumsfeld for his wonderful dream, and for honoring us to be part of it. We will do everything possible on our part to further promote his vision for the region and passion for the CAMCA program. As a great Roman emperor and philosopher, Marcus Aurelius, once said, 'Death smiles at every man, and all a man can do is to smile back.' We are sure that Secretary Rumsfeld had bravely smiled back."
"Secretary Rumsfeld was such a friendly man, passionate about our region and supportive to each individual within the alumni family. I will never forget his kindness towards the program. And I hope we all are able to carry on his legacy - the Foundation - in a way that he dreamed, and I hope we all in the CAMCA Network are able to collaborate in a way that represents him and his legacy in the way that he deserves."
"I am grateful for the honor to have met him in person and the immense opportunities that the Rumsfeld Foundation Fellowship offered by bringing together the people of Central Asia and the Caucasus, Mongolia and Afghanistan."
"It was an honor to know Secretary Rumsfeld personally. Mr. Rumsfeld and the program have provided me a great opportunity to meet incredible people with outstanding professional backgrounds in the U.S. and from other parts of the world and offered me a chance to be a member of a growing network of successful leaders of our region."
"Donald Rumsfeld was a visionary man. Among so many other things, he deepened the knowledge and understanding of America in our part of the world through the incredible efforts of the Rumsfeld Foundation."
"We are saddened by his loss and we are so grateful to him for the years of support toward a peaceful and secure Afghanistan. We deeply respect his work in developing the next generation of the region's leaders and of course his incredible career in public service."
From our Graduate Fellowship Network…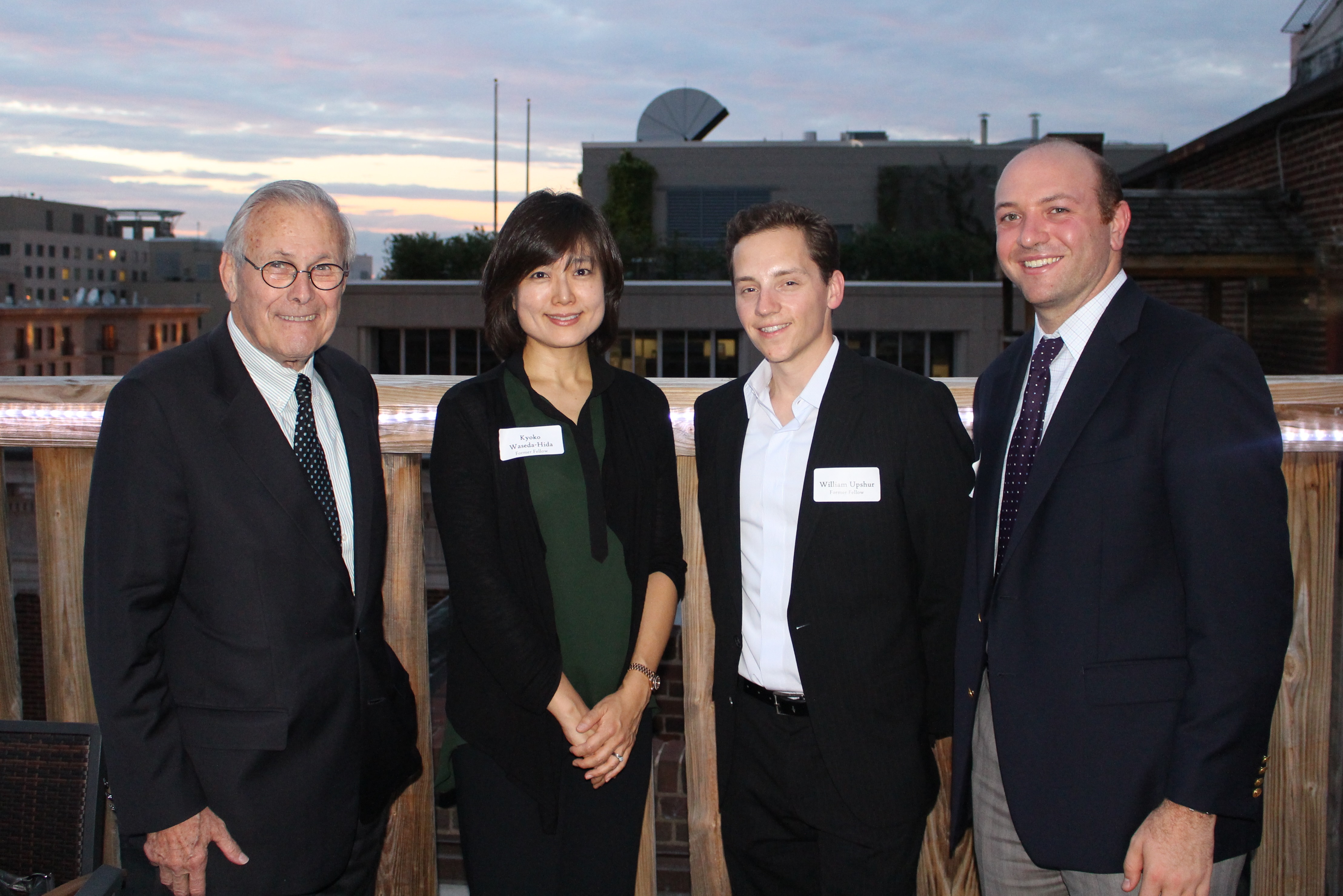 "What an incredible man and what an incredible legacy.  It was a great privilege to know him.  I would not be where I am today without the Secretary."
"It's been such an amazing chance to be able to hear the Secretary tell stories, to invite us into his home, and to - most importantly - learn from his example of service."
"I was honored to serve under Secretary Rumsfeld at the Pentagon and as a Fellow. I will always be grateful for his leadership and contributions to my education through the scholarship afforded by the Rumsfeld Foundation."
"I am so immeasurably grateful for the role he played not only in our country, but also in my education. I have been forever touched by Secretary Rumsfeld's immense generosity and vision."
"I always admired Secretary Rumsfeld, both in his public and in his private life. I'm sure there will be many eulogies written about his accomplishments, his values, and his influence in the coming days. But for me, I will always particularly cherish the memory of the 2015 conference, where -- by sheer good luck -- I was placed at his dinner table one evening. Secretary Rumsfeld was as engaging a dinner conversationalist as I have ever enjoyed, and I especially remember a long conversation we had about the primary system as done by American versus Japanese political parties."
"That he was able to build a rolodex of distinguished friends and partners, but he was also willing to advise and spend time with folks like me and my Fellowship classmates, speaks to his character. I will miss his presence from the world stage and our private Fellowship alike."
"I am just one among many who feels gratitude to have met Secretary Rumsfeld, and am privileged as a Fellow to celebrate his legacy."
"Receiving the Rumsfeld Fellowship was a huge relief to me in graduate school, making possible my continued studies and setting me up for a successful and gratifying career in public service. I will always be grateful to Secretary Rumsfeld for his vision for the Foundation, including this support and the community of scholars and public servants that has followed."
"Secretary Rumsfeld leaves behind an incredible legacy. I'm thankful for the opportunities that I have had, which have come because of the Foundation."
"He was such a remarkable public servant and mentor for so many of us that it is difficult to capture the scope and sheer impact of his contributions to all of us, and to the entire nation. His lasting impact here and in so many other places will continue, as we carry that forward well into the future."
"The Secretary lived a momentous and productive life, and leaves behind a tremendous legacy. As many have noted, his tireless devotion to his country has set a standard unmatched by many others. But his personal qualities revealed an even more profound depth of character -- charming, erudite, thoughtful, and engaging, and genuinely interested in others' thoughts and ideas. He will be greatly missed."
From our Military Charity Partners…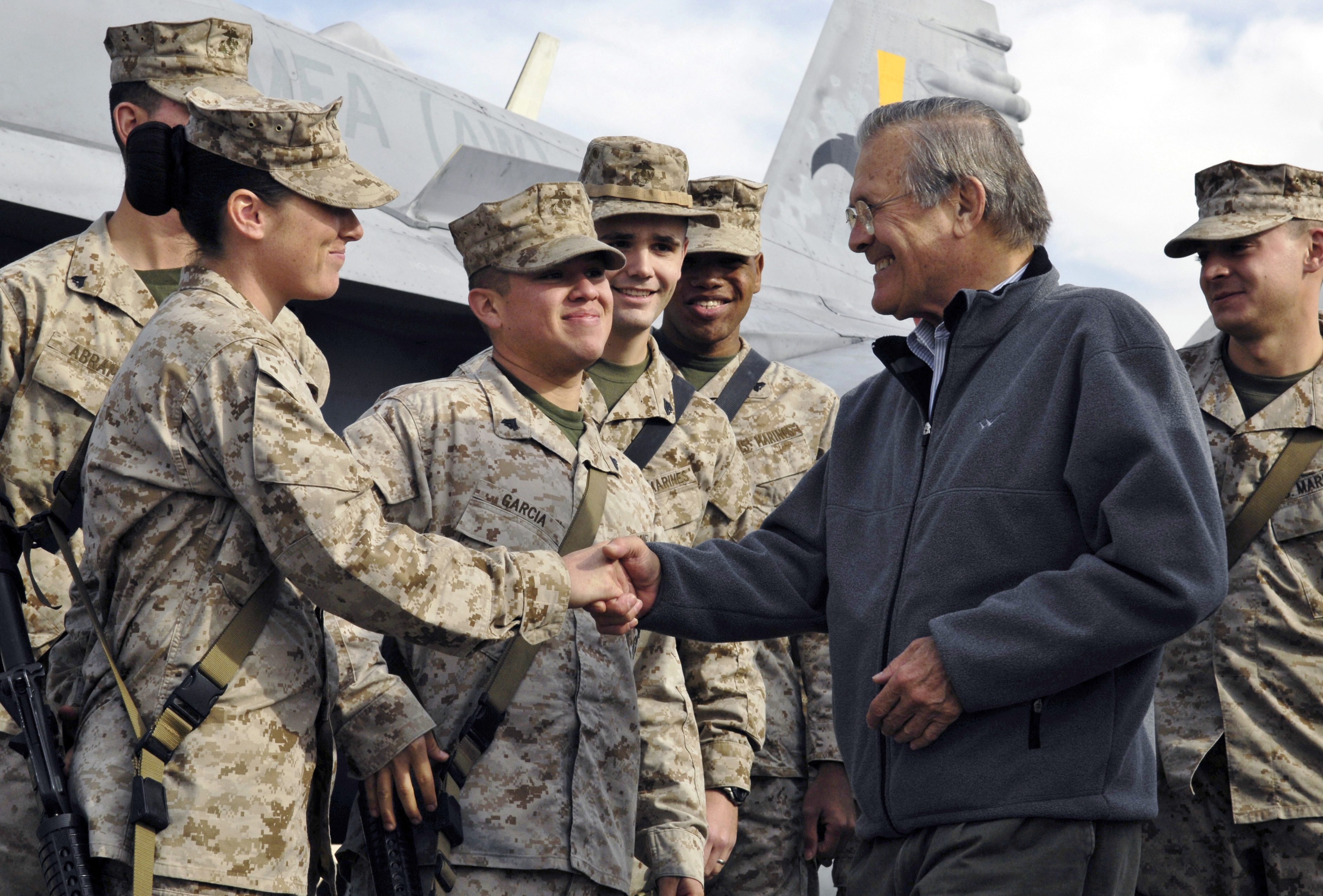 "We have been honored to be supported by the Rumsfeld Foundation over the years and we are so grateful to have been affiliated with so many good causes you support.  You have impacted the lives of so many service members, veterans and their families through our programs."
"He was truly an extraordinary man and our country owes him and his family a great deal for his dedication to America."
"He lived an incredible life and we are truly blessed to have been inspired by him over the years. His legacy will live on through the incredible work being done by you and the Foundation."
"SECDEF Rumsfeld has changed so many lives through his support for our organization, and we are so thankful for being part of his legacy."
"He brought passion to public service and gave so much to our country."
.
Through the Rumsfelds' philanthropic generosity, the Foundation has invested over $16.5 million toward the important causes we champion. To date, these funds have supported over 445 Fellowships for young leaders in both of our Fellowship programs, provided over $6.2 million in grants to military and veterans charities and donated more than $3.7 million in grants to expand microfinance around the world. Read more about the Rumsfelds' impact here.