Board of Directors
Donald Rumsfeld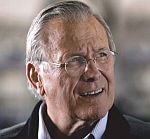 Donald Rumsfeld currently chairs the Rumsfeld Foundation with his wife of more than 60 years, Joyce. The Foundation was established in 2007 to support leadership and public service at home and the growth of freer political and economic systems abroad.
Rumsfeld published his number one New York Times bestselling memoir, Known and Unknown in 2011. The book spans his career and is complemented by extensive primary source documentation that can be found on his website. His second book, Rumsfeld's Rules, was published in May 2013, and was also featured on the New York Times Best Seller list.
More recently, Rumsfeld ventured into the tech world, with the launch of his Churchill Solitaire app. Winston Churchill taught the game to Ambassador Andre de Staercke, who taught it to Rumsfeld while he was serving as the U.S. ambassador to NATO in 1973-1974. Up until a few years ago, only a small number of Rumsfeld's friends and family played the game. Now Churchill Solitaire is available to download in Apple's App Store worldwide.
All of Rumsfeld's profits from his memoir, Known and Unknown, and from his Churchill Solitaire app are being donated to the military charities supported by the Rumsfeld Foundation.
Rumsfeld completed his second tour as Secretary of Defense in December 2006. During his tenure, he led the U.S. Department of Defense in overseeing the reform and transformation of America's military to meet the challenges of the 21st Century.
A former naval aviator, Rumsfeld previously served as a U.S. Congressman, U.S. Ambassador to NATO, White House Chief of Staff under President Gerald Ford, Special Presidential Envoy to the Middle East under President Ronald Reagan, and Chief Executive Officer of two Fortune 500 companies and Chairman of a third.
Rumsfeld and his wife reside in New Mexico and spend time in Montana, Maryland, and Washington, D.C. They have three children, seven grandchildren, and two great-grandchildren.
Joyce Rumsfeld


Joyce Rumsfeld was born in Billings, Montana and after moving to Fargo, ND, Minneapolis, MN, and Milwaukee, WI, she ended up in the Chicago area. She graduated from New Trier High School where she and her husband, Don Rumsfeld, were classmates, and later received a B.A. in Art History from the University of Colorado in 1954.
Mrs. Rumsfeld was the founder of the Chicago Foundation for Education (CFE) in 1985 and served as Chairman of its Board of Directors for thirteen years.The Foundation is dedicated to improving the education of children in Chicago public elementary schools.In the last 25 years, CFE has invested more than 5.5 million dollars in the Chicago Public Schools, impacting nearly 30,000 teachers and more than 1 million students.
Mrs. Rumsfeld has served on the Big Shoulders Program at the Archdiocese of Chicago, the National Advisory Council of Character Education Partnership, Inc., and the U.S. Department of Education's Fund for Improvement of Post-Secondary Education. She also served on the Board of Visitors and Governors at St. John's College for 12 years.
In honor of her work with members of the U.S. military and their families, on December 15, 2006, Mrs. Rumsfeld was awarded the Department of Defense's Distinguished Public Service Award.
Mrs. Rumsfeld currently chairs the Rumsfeld Foundation with her husband. They have three children, seven grandchildren, and two great-grandchildren and reside in New Mexico.
Honorable Edward G. Biester, Jr.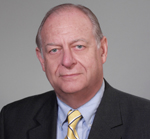 Hon. Edward G. (Pete) Biester, Jr., (Ret) has spent a lifetime in public service, having worked in all three branches of government during his 40-year career. Over the past 26 years, he has served as a member of the judiciary as Judge of the Court of Common Pleas in Bucks County, Pennsylvania; as Attorney General for the Commonwealth of Pennsylvania (1979-1980); and as a member of the United States House of Representatives (1967-1977).
As a judge for twenty-six years, Biester presided over numerous civil and criminal cases, many of which either resolved or achieved settlement prior to trial. As Senior Judge in the Court of Common Pleas, he presided over a number of complex cases in various courts in Eastern Pennsylvania, including many in Philadelphia. As a member of the Judiciary Committee in the U.S. House of Representatives, Biester was ranking minority member of the sub-committee on Patents and Copyrights and as member of the Foreign Affairs Committee in the U.S. House of Representatives, he was ranking minority member of the African Sub-committee, and the sub-committee addressing International Economics. As Attorney General, among other things, Biester resolved disputes between and among various agencies of the Commonwealth.
Mr. Biester's other honors and professional activities include; President, James A. Michener Art Museum, Doylestown, Pennsylvania, 2001-2006, Member of the Board of Directors, Overseas Development Council, 1977-1978, Member, National Governing Board of Common Cause, 1977-1978, Distinguished Alumnus Award-George School, Honorary Doctor of Laws from Delaware Valley College, 1977, Member, Board of Directors of the World Affairs Council of Philadelphia, 1977-1978, Member, Board of Directors, Welcome House International Adoption Agency, 1977-1978, Delegate to a Special Assembly of the United Nations General Assembly, 1975.
Mr. Biester received a B.A. with honors from Wesleyan University in 1952 and his J.D. from Temple University School of Law in 1955.
Dr. Steve Cambone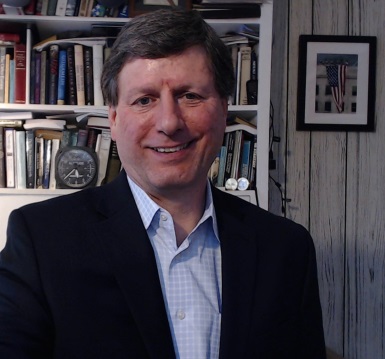 Dr. Cambone is an independent consultant. Drawing on his extensive experience in government and business, he advises public and private sector leaders and managers in strategic plans and planning, operations, resource allocation and the use of technology to transform operations and business practices to increase capability and effectiveness, improve efficiency and achieve mission or financial objectives. He is the founder of Adirondack Advisors, LLC, and is an advisor to start up technology companies, public and private companies that service the national security market and to non-profit organizations.
Dr. Cambone sits on the Proxy Board of MDA IS LLC and chairs its Government Security Committee and on the Special Security Board of Elbit Systems of America. He has served as the Thomas W. Smith Senior Fellow at the Ryan Center, Villanova University and is currently an adjunct faculty member at Johns Hopkins University.
From 2007-2012 he served in senior corporate positions for QinetiQ North America (QNA), including the Senior and later Executive Vice President for Strategic Development, as well as the President of QNA's Mission Solutions Group.
Prior to joining QNA, Dr. Cambone served from 2001-2006 in the Department of Defense. During that time he was twice nominated by President Bush and confirmed for senior positions in DoD, including as the first Undersecretary of Defense for Intelligence, responsible for the oversight of DoD's intelligence policy, activities and budgets and its relationship with the Director of National Intelligence and the broader Intelligence Community.
Dr. Cambone was awarded the DoD Distinguished Public Service Medal by the Secretary of Defense, and the National Intelligence Distinguished Service Medal by the Director of National Intelligence. He was a Senior Fellow at the Center for Strategic and International Studies and Director of Research at the Institute for National Security Studies at the National Defense University. He is a member of the Advisory Board of the Intelligence and National Security Alliance (INSA) and the Advisory Board of the Volgenau School of IT and Engineering at George Mason University.
Dr. Cambone received his Ph.D. and Master's degrees in Political Science from Claremont Graduate School and his Bachelor's degree in Political Science from The Catholic University of America.
Lawrence Di Rita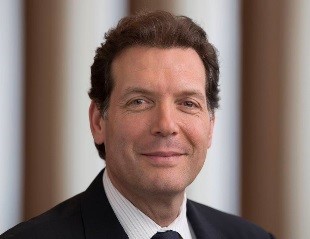 Lawrence Di Rita works for Bank of America. He is responsible for CEO communications, the company's national media relations, and communications for the legal /compliance/ regulatory groups, and marketing/corporate affairs. Mr. Di Rita joined Bank of America after more than 25 years of public service.
From 2001-2006, he was Special Assistant to the Secretary of Defense. While at the Pentagon, he also served as head of the office of Public Affairs and as Defense Department spokesman. From 1996-2001, Mr. Di Rita was Legislative Director, then Chief of Staff for Senator Kay Bailey Hutchison of Texas. In 1995-1996, he was Policy Director of the Phil Gramm for President campaign.
Between 1980 and 1993, Mr. Di Rita was a U.S. naval officer, with various seagoing and shore-based assignments in the United States and Japan, where he and his family lived from 1981-1985. His last active duty assignment from 1991-1993 was as a politico-military planner on the staff of the Joint Chiefs of Staff. After his military service,
Mr. Di Rita spent two years as Deputy Director of Foreign Policy and Defense Studies at The Heritage Foundation, a think-tank in Washington, D.C. Mr. Di Rita has a Bachelor of Science degree from the United States Naval Academy and a Master of Arts degree from Johns Hopkins University.